Brunner says her experiences would help Ohio in U.S. Senate
Jennifer Bruner, Secretary of State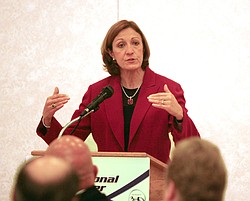 Video
Jennifer Bruner was here for a Regional Chamber Meeting.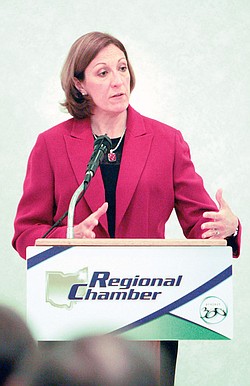 Photo
Jennifer Brunner, Ohio's Secretary of State and candidate for the U.S. Senate, will speak at a Regional Chamber luncheon at the Byzantine Centre in Youngstown.
The race is far from over, the candidate says.
YOUNGSTOWN — Ohio Secretary of State Jennifer Brunner says she's running next year for the U.S. Senate because "my state and country need me elsewhere."
In a Friday interview with The Vindicator, Brunner said, "My experience growing up here in Ohio and working in public service from many different vantage points leaves me in a position to believe that I can be of help to my state at a time when public-minded people are desperately needed."
Brunner made the comments after speaking at a Youngstown/Warren Regional Chamber event at the Byzantine Center at the Grove in Youngstown.
During her speech, Brunner discussed her time as secretary of state, focusing on last year's presidential election, and running for the U.S. Senate.
Brunner and Lt. Gov. Lee Fisher are the two leading Democratic candidates for the seat currently held by Republican George V. Voinovich.
Rob Portman, a former congressman, U.S. trade representative and director of the Office of Management and Budget, is the leading Republican candidate for the job.
Recent polls have Portman trailing Fisher and Brunner. The general election isn't till November 2010.
Brunner acknowledges some Democrats don't want her to run against Fisher in what could be a divisive primary.
When asked by The Vindicator if there's anything she could reasonably foresee that would get her out of the Senate race, Brunner said, "No. Nothing."
As for the potential of a divisive primary, Brunner said, "I've emphasized to any opponent in the primary the need for us to focus on our messages and to rely on the strength of our messages so that we emerge from the primary stronger and not a party divided."
Fisher, a seasoned politician who's served as attorney general and was the failed Democratic gubernatorial candidate in 1998, raised about $1 million during the first three months of this year, the most recent campaign-finance report period.
Brunner raised about $200,000 during the same time.
"When I raised money, as I did in 2006 [for secretary of state], it builds steady and then accelerates," she said. "By the end of the election period, I'm raising more than my opponent. The first turn of the Kentucky Derby doesn't predict who the winner is. It's going to be a long race."
Brunner's visit comes a day after Portman came to the Mahoning Valley to hold private meetings to raise his profile in the area.
Portman raised about $1.7 million in the year's first quarter and also transferred $1.4 million from his old House campaign fund.
Brunner said she's never met Portman, "but I hear good things about him."
If the general election for Senate comes down to the two of them, Brunner expects the pair to have a fair and civil race, she said.
"It's not to say candidates won't criticize what the other does, because your record is fair game," she said. "But it can be a much more civil election than people may think it would be."
Portman agreed, saying Friday that "people are ready to hear solutions and not partisan rhetoric. People are tired of the attacks and are looking for answers."
skolnick@vindy.com