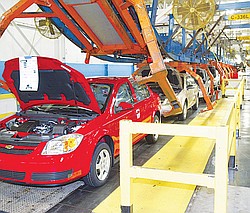 Photo
In this Vindicator archive photo, Cobalts are seen on the assembly line at GM Lordstown.
By DON SHILLING
VINDICATOR BUSINESS EDITOR
Roy Weamer, a retired General Motors worker, is satisfied with a revised labor contract that keeps his pension intact but strips away his dental and vision insurance.
"It's not as bad as I thought it would be," said Weamer, 59, of Struthers.
Despite the increased expenses, Weamer and the other 8,000 retirees from GM's Lordstown complex do not have a say in a deal that's designed to help the automaker cut costs.
That is up to the 1,800 active workers and 2,750 laid-off workers at Lordstown and others around the country. Local voting will be from noon to 6 p.m. today at the MetroPlex in Liberty.
These workers would have their own concessions, such as suspension of cost-of-living pay, performance bonuses and an Easter Monday holiday. They also would give up the right to be paid for unused vacation.
A letter from United Auto Workers leaders in Detroit, however, stresses that the offer does not include any cuts in base pay or health- care benefits for active workers and makes no changes in pensions.
Local UAW leaders say it's a good deal from a company that is likely to file for bankruptcy protection any day.
"These are very difficult decisions the members are asked to make," said Dave Green, president of UAW Local 1714. "I believe it's better for us to reach an agreement than it would be for a bankruptcy judge to make a decision for us."
Jim Graham, president of UAW Local 1112, also said negotiated concessions are preferred to the unknown of heading into bankruptcy court without them. He said he is "very optimistic" the contract will pass.
Even with an agreement, no one can be sure what will happen to labor contracts or retiree benefits in bankruptcy proceedings because a judge can order them to be renegotiated or voided.
Weamer said he has watched other corporate bankruptcies and seen some "pretty heavy" benefit concessions forced on retirees.
"I don't think this is the final end of it," he said.
The agreement, which was reached by union and company negotiators last week, would not change the $23 a month that retirees who are under 65 pay for family health-care coverage. However, older retirees who receive Medicare would lose their Part B supplement unless they retired before October 1979.
Prescription-drug coverage for retirees would change slightly. A 34-day supply of medication from a retail store now costs $10 for generic and $15 for brand-name drug. The agreement would raise the brand-name drugs to $25. Retirees would lose coverage for the treatment of erectile dysfunction.
The cost of retiree health care has been a big part of negotiations between the union and GM.
The automaker owes the UAW $20 billion to fund a trust for retirees' health-care coverage. Instead of that payment, the deal calls for GM to give the union 17.5 percent of its common stock, $6.5 billion of preferred shares and a $2.5 billion note.
In exchange for such concessions, the UAW received some commitments for future work if GM pulls off a restructuring effort.
GM agreed to use an idled assembly plant to produce compact and small cars that are not made at any other U.S. plant. The automaker also said it would reopen a stamping plant to provide parts for those cars.
The UAW said it insisted on these items because GM plans to import more cars from China and other foreign countries.
In addition, GM has agreed to name three assembly plants and one stamping plant that have been idled as stand-by locations. These plants would be reopened if vehicle sales are higher than GM predicted in a viability plan it filed with the federal government.
As for current workers, the deal includes incentives for those wanting to retire or leave work early.
Production workers eligible to retire would receive $20,000 and a $25,000 vehicle voucher if they leave, while skilled trades workers would receive the voucher plus $45,000.
Those with 28 or 29 years service would receive monthly payments until they reach 30 years, when they would receive full benefits.
Other workers would receive payments of between $45,000 and $115,000, plus a vehicle voucher, to quit without benefits.
GM is staring at bankruptcy because its efforts to restructure outside of court appear to have failed. GM's bondholders are refusing to make concessions required by a federal automotive task force.
If it files for bankruptcy, GM hopes to emerge quickly as a slimmed-down, debt-free automaker.
shilling@vindy.com
SEE ALSO: Can GM survive bankruptcy? Analysts disagree. and Who will drive GM?.