Corey Linsley comes through in finals to win Div. I discus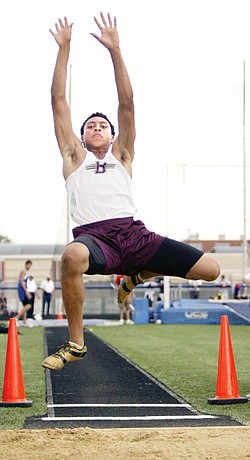 Photo
Boardman's Caleb Matthews competes in the long jump Wednesday at Austintown Fitch.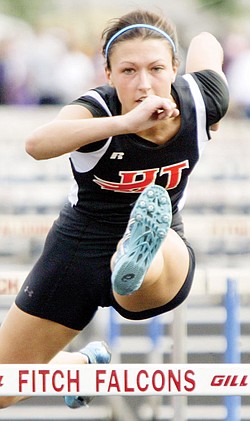 Photo
Howland hurdler Nichole Pachol competes in 110's at Austintown Fitch Wednesday.
He was one of four area athletes to earn state meet berths on Wednesday.
VINDICATOR CORRESPONDENT
AUSTINTOWN — Sometimes, it's better to be lucky than good. But in the case of Boardman High's Corey Linsley, it's nice to be both.
Entering the finals of the regional discus competition, the senior was in the unenviable position of fourth place, clinging to a state meet berth.
"I was on the fence, so I knew in the finals I just had to get it done," said Linsley.
Thanks to a renewed focus — and his pair of lucky dress socks — he unleashed a throw of 188 feet, 7 inches, on the first throw of the finals. The toss not only won him a regional championship, but also broke the Boardman school record.
"I guess I was just nervous in the prelims, but I guess there was just something about the finals that lit a fire under me," he said. "You always have to go for the regional record [204 feet], so I shot for the stars today, but landed on the moon, which is a pretty good place to be right now."
Linsley will look to add a berth in the shot put on Friday, an event that he finished third in at the 2008 state meet. He's hoping that experience will give him an advantage this time around.
"Any time you come up short, it motivates you," he explained. "It all comes down to preparation and discipline. I think it takes experience to know how to prepare."
Joining Linsely in the state discus competition will be Canfield junior Dustin Brode, who qualified third with a throw of 170-6.
Boardman's Caleb Matthews was one of four seniors to earn state berths in the long jump on Wednesday. Matthews' leap of 22-1 put him third, but was just 2 æ inches away from winning the regional championship.
Linsley's 10 points, Matthews' six and Allen Starkey's three (he was sixth in the long jump), gave the Spartans 19 team points after four events. That put them in the lead, one point ahead of Solon.
Matthews also advanced to the finals in the 110 and 300 hurdles.
For Fitch sophomore Ali Tolich, Wednesday was an emotional roller coaster. She was nervous, disappointed and happy — in that order.
She entered the competition as one of only two competitors with throws over 40 feet. Despite not breaking 39 this time, she managed just enough to land her a spot in next week's state meet.
"I'm disappointed that I didn't win, but I'm excited that I'm going to state," said Tolich, who finished fourth with a throw of 38-5 º. "I was confident that I'd throw like I usually do, but that didn't happen. I'm just glad I found a way to make it.
"I didn't expect to make it in shot this year, so I'm pleasantly surprised. I've improved a lot this year by changing from the glide to the spin. I just generate more power that way."
Several Valley competitors advanced to Friday's running finals by finishing among the eight fastest times in their respective events.
On the boys' side, Warren Harding's Deaver Williamson had the fastest times in the 100 and 200 and will also run on the Raiders' 4x100 and 4x200 relays that turned in the best marks in the prelims.
Teammate Joseph Threats will join Williamson in all four of those events.
Marvin Logan (300 hurdles) and Mitchell Seawood (110 hurdles) also moved on in individual events and will run in the 4x200 relay.
Harding's 4x100 relay will also include Aunre Davis and Charlton Wilson.
East's 4x100 relay squad of Tre' Vaughn Thomas, Anthony Robinson, Michael Thomas and Alex Pettway had the second-best qualifying time to move on to the finals.
Chaney's Myke Parker, still recovering from an injured hamstring two weeks ago, qualified for the finals of the 400 with the fourth best time on Wednesday.
"It was tight today," said Parker. "I think I'm slightly better than the competition here, but it's frustrating because I have to stay within my limitations right now. I just have to be patient and run my race and give it 100 percent on Friday to make it to state."
In the girls' competition, the Harding 4x200 relay moved into the finals with a fifth-place showing on Wednesday.
Chaney hurdler Shatasia Walker will run in the finals of the 100 hurdles, while Fitch's Jen Shiley will compete for a state berth in the 400.
Howland hurdler Nicole Pachol will challenge defending state champion Amber Smith of Cleveland Collinwood in the finals of the 300 hurdles. Pachol posted the second-best time of 43.50 in the prelims, compared to Smith's 42.90.
The duo will also square off in the 100 hurdles on Friday. Smith's 14.20 was the best time, while Pachol's 14.41 was good enough for third.
"You can't ask for much more than this," said Pachol. "I'm happy to be in this position. I wanted to be in lane four in the 300s on Friday, but I'll take lane 5.
"I felt strong today, but I stuttered in front of four hurdles today. I was just thinking too much today, but I'm excited for Friday."