Hubbard man marks milestone
Michael DeSantis 110th Birthday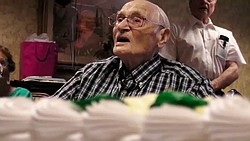 Video
Michael DeSantis celebrates his 110th birthday at Park Vista in Youngstown, OH.
Supercentenarian: This is someone who has reached the age of 110 years, something achieved by only one in 1,000 centenarians (based on European data). Only 1 in 50 supercentenarians, sometimes hyphenated as super-centenarian, lives to be 115. The term began in the 1970s and was popularized in 1991 by William Strauss and Neil Howe in their book, "Generations."
Oldest living people: Gertrude Baines, born April 6, 1894, of California; Kama Chinen, May 10, 1895, of Okinawa, Japan; Mary J. Ray, May 17, 1895, of New Hampshire; Olivia P. Thomas, June 29, 1895, New York; Neva Morris, Aug. 3, 1895, Iowa; Chiyo Shiraishi, Aug. 6, 1895, Ibaraki, Japan; Tomoji Tanabe, Sept. 18, 1895, Miyazaki, Japan; Maggie Renfro, Nov. 14, 1895, Louisiana; Eug nie Blanchard, Feb. 16, 1896, Saint Barthel my, France; and Lucia Lauria, March 4, 1896, Basilicanta, Italy.
Oldest documented human: The oldest human with proof was Jeanne Calment, (Feb. 21, 1875–Aug. 4, 1997) who lived to 122. Calment was born in Arles, France, to an affluent family. Close family members also lived to an advanced age: her brother, Fran ßois, 97, her father, Nicolas, 93, and her mother, Marguerite, 86. Calment's longevity was not shared by only daughter, Yvonne, who died at 36 in 1934 from pneumonia. In 1985, Calment moved into a nursing home, having lived on her own until age 110. She did not gain international fame until 1988, when the centenary of Vincent van Gogh's visit to Arles provided an occasion to meet reporters. She said that when she was 14, she met van Gogh in her father's shop, later describing him as "dirty, badly dressed and disagreeable." She also later reported attending the 1885 funeral of Victor Hugo.
Source: www.wikipedia.org... people
A favorite family story of 110-year-old Michael DeSantis is the time when he was shanghaied.
Michael DeSantis of Hubbard, who marked his 110th birthday Tuesday, has a whale of tale.
His birthday celebration at Park Vista retirement community in Youngstown, where he is in the Rehab Center after a bout of pneumonia, provided another occasion to revisit the favorite family story.
DeSantis, who was born May 26, 1899, in Charleroi, Pa., said his desire to travel when he was young landed him a lot farther than he anticipated. Daughters Alice Casey, 88, of Hubbard and Phyllis Laskovics, 77, of Bessemer, Pa., helped explain the story.
"He hopped on a railroad car and traveled to Oregon," Laskovics said. "He stayed somewhere, went to sleep and when he woke up, he was on a ship."
"I was shanghaied," DeSantis said of the experience when he was about 18 years old.
Casey said the ship needed workers. "It was a ship full of wheat and was headed to France." She also noted that their father recalled seeing submarines on the high seas during this time, circa World War I.
Once DeSantis arrived in France, he stayed a few months, his daughters said.
"It was a 56-day trip back to the United States on a schooner," Casey said.
"I came back to the United States, and it was Labor Day," DeSantis said, recalling his arrival at a Baltimore port.
Casey and Laskovics said their father told the family he almost hopped a schooner to China, and wondered how his life would have turned out had he made that choice.
After being back in the United States, DeSantis married Mary Pasquarella on Oct, 13, 1919, and they settled in the Hubbard area. She died in 1993.
The family also includes sons, Michael DeSantis, 83, of Niles and Anthony DeSantis, 81, of Hubbard, and another daughter, Angie Fetchet, 80, of Youngstown. Another daughter, Eunice Williams, is deceased. The extended family includes 22 grandchildren, more than 20 great-grandchildren and a number of great-great-grandchildren. DeSantis himself was one of seven children. Surviving siblings are sister, Rose Pasquarella, 95, of Hubbard and John DeSantis, 97, of Akron.
DeSantis worked much of his life as a welder. His last job was at Republic Steel, and he retired at age 66 in the mid-1960s. "He had all kinds of jobs," Laskovics said.
Laskovics said one of her fondest memories of her father was of him rescuing her when she was about 5 years old. "We were at a neighbor's barn, and the older kids climbed out one way, and I thought I could too. But I froze," she said. "He ran and saved me."
Casey has a quieter memory — of the family gathered in the living room listening to their father's tale of being shanghaied and his other travels.
The family pitches in to help their father, who maintains his own residence. "I've lived in Hubbard about 90 years," said the supercentenarian, a member of St. Patrick Church. Casey and son Anthony live a few houses away. "We all have our jobs to do," Fetchet said.
"He has always been a pleasant man," Laskovics said. "He wants peace around him."
"He is a dream of a father," Casey said. "They parented with love," Laskovics said.
In fact, the daughters recalled a "thank-you" party that their parents held for their children. "They said it was for all we did," Laskovics said.
The 110-year-old DeSantis has been active for most of his life. "He bowled until he was 104," Laskovics said. "I gave him bowling shoes for his 100th birthday."
"I never had a perfect game," he said, noting that 246 was his best score.
The supercentenarian said he enjoyed bowling and golfing. Now, he likes watching television. TV Land shows such as "Good Times" and "Sanford and Son" are among his favorites along with cowboy movies.
When DeSantis was born, William McKinley was president. He has lived under 19 other administrations. Harry S. Truman and the Roosevelts were his favorite presidents.
He has voted since he was old enough but didn't vote in this last election. Laskovics said the family told their father they would get him an absentee ballot. "He didn't want to fill it out because he said he couldn't see that well, and he didn't want to ask anyone to help, because he didn't want them to know how he voted," Laskovics said.
DeSantis said his favorite car was a Ford Mercury, circa the 1940s. And, he still holds a driver's license, which was renewed in the last couple of years, though he doesn't drive.
So what's his secret to longevity? "Eat good, exercise and drink some beer."
linonis@vindy.com
More like this from vindy.com