Memorial Day has roots in Mahoning Valley
The Valley has a link to the beginning of the holiday.
By WILLIAM D. LEWIS
VINDICATOR STAFF PHOTOGRAPHER
A Tribute to Memorial Day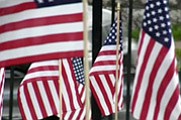 Video
Memorial Day, the day on which graves of veterans are decorated, has a long and well-established connection to the Mahoning Valley.
Memorial Day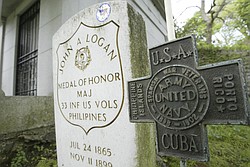 Gallery
Buried in Youngstown's Oak Hill Cemetery is Maj. John A. Logan, whose father General John A. Logan issued an order in 1868 resulting in Memorial Day.
YOUNGSTOWN — Memorial Day, the day on which graves of veterans are decorated, has a long and well-established connection to the Mahoning Valley.
In the days after the Civil War, Gen. John A. Logan, commander and chief of the Grand Army of the Republic of the Union forces, issued General Order 11 instructing veterans to decorate graves of comrades who died in the conflict.
This order resulted in the establishment of Decoration Day, now known as Memorial Day.
The Mahoning Valley's connection to the holiday lies in Youngstown's historic Oak Hill Cemetery on the city's South Side, where Logan's son, Maj. John A. Logan, is buried.
John Logan married Edith Andrews of the prominent Youngstown steelmaking family and lived here during the 1890s. His military service included the Spanish-American War and the Philippine-American War, where he was killed by a sniper's bullet in 1899. Logan was posthumously awarded the Congressional Medal of Honor, the nation's highest award that can be given to military personnel.
In the years since Gen. Logan issued Order 11 and his son was buried at Oak Hill, generations of veterans have decorated Logan's grave along with the graves of thousands of other veterans buried in area cemeteries.
Several area veterans shared their thoughts on Memorial Day and General Order 11. They read portions of the order in a video that can be viewed through the link at left..
The order begins: "The 30th day of May, 1868, is designated for the purpose of strewing with flowers or otherwise decorating the graves of comrades who died in defense of their country."
For Jan Brown of Boardman, Memorial Day is a busy time.
She is a retired 27-year Air Force veteran, a member of Mahoning County Veterans Service Commission, and wife of former national AMVETS Commander J.P. Brown III.
"Before retiring, Memorial Day was a three-day weekend. Since retiring about 10 years ago, Memorial Day has become one of the hardest working days I have," she said.
As part of her duties with the commission, she helps place flags on graves of county veterans. "In Youngstown's Calvary Cemetery alone there are thousands of veterans buried," Brown said.
"We have people from all walks of life, not just veterans, but Boy Scouts and Red Hat Ladies come out to help. It's not done in a hurry, but reverently, and it's a great honor to do that," she added.
Edwin Romero of Boardman earns his living as a lawyer.
But he also is a member of the Patriot Guard Riders of America, a group providing motorcycle escort for military funerals.
Romero, who served three years in the Army's 101st Airborne Division during the Vietnam War, added that the Patriot Guard Riders often serve as a buffer between protesters and military funerals.
"It is important to remember the soldiers and veterans for what they've done. Those who have given their lives deserve to be remembered," Romero said.
Bob Bush, an assistant Mahoning County prosecutor and veteran who enlisted in the Marine Corps and also served in the Vietnam War, said, "Memorial Day is one of the few days that linger with me and I reminisce about. I go to the cemetery every year and think about my friends."
Reflecting on his military service, Bush said he met a lot of good people and lost some friends. He has visited the Vietnam Memorial in Washington, D.C., and found names of friends on the monument.
Karen Brandt, a 29-year Air Force veteran from Youngstown, says Memorial Day means a lot to her because it shows how her forefathers made their service a great tribute to this country.
Sally Falasca of Poland, an Air Force veteran who now works for the Veterans Administration, said, "Memorial Day is an incredibly special day for me to honor those fallen warriors who have preserved our freedom. I think it's a time Americans should really honor those who have fallen."
A sense of obligation to honor his grandfather who served in the Korean conflict was the reason Nicholas Cayton of Girard joined the Ohio National Guard.
"Memorial Day to me is honoring those who have sacrificed everything for their country," Cayton said.
J.P. Brown III, a Navy veteran who served in Vietnam, views Memorial Day as a family tradition. Brown recalls taking his son to decorate veterans' graves. Brown now takes his grandchildren along when helping to decorate veterans' graves.
"Behind every great man there is a great woman," says Brown as he tells the story of Mary Logan, wife of Gen. John A. Logan who, while visiting Virginia shortly after the Civil War, was so impressed with the way graves of Confederate soldiers were decorated she suggested to her husband that the practice continue throughout the country
The general saw a need to honor those who died in service of their country, Brown said.
"After 141 years, this tradition continues, and I take great pride in the fact we, as veterans, are able to carry on this tradition," he said.