Loving families welcome Reservists home at Valley airbase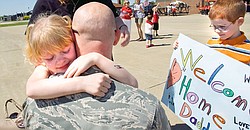 Photo
8-year-old Tayla Jones of New Waterford hugs her father John with his son Jonathan, 6, on the right holding a sign.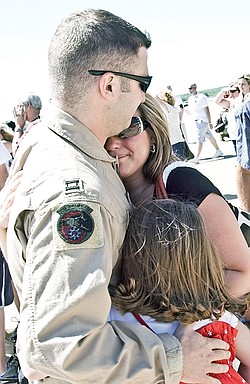 Photo
Justin Fadem, 29, of Howland hugs his step daughter, Zoe Neleach, 8, and his pregnant wife Brandi, 28. Justin just came back from a tour in Southeast Asia.
Leaving is always hard, but coming home is always good, reservists say.
VINDICATOR CORRESPONDENT
ZOE NALBACH KNEW HER stepdad wasn't scheduled to land his aircraft at the Youngstown Air Reserve Station in Vienna until sometime Wednesday afternoon.
But that didn't stop the 8-year-old girl from waking up at 5 a.m. to make sure she was ready and at the base in time for his return.
"I was excited," she explained. "I just missed him."
Capt. Justin Fadem, an aircraft commander, was charged with bringing home one of the two planes carrying some 50 Air Force Reservists of the 910th Airlift Wing.
Most of the service personnel were deployed to the Middle East in January, while others, like 29-year-old Fadem of Howland, left in March.
"It's just good to be home," Fadem said. "It sounds the same all the time and what you expect people to say, but there's a lot of truth in it. The worst part is being away from family, and the best part is coming back to them."
The reservists are air crew members and aircraft maintenance personnel assigned to the local base. They deployed to a forward operating location in the Middle East in support of Operation Iraqi Freedom and Operation Enduring Freedom.
The reservists were assigned to the 379th Air Expeditionary Wing.
The primary mission of the 910th Airlift Wing is to deliver personnel and cargo by airdrop and air-land techniques anywhere in the world as directed. The 910th's last major airlift deployment was in July 2005.
"Being away is hard, but when you're working 20-hour days in 110-degree heat, you really mean it when you say it's good to be home," Fadem said. "There's really no place like home."
Zoe and her mom, Brandi, met Fadem with a sign Zoe had made and held up for all to read. Bearing the greeting "Welcome Home Justin," the poster just about said it all and spoke volumes about the sentiments of the more than 200 people gathered at the base throughout the day, anxiously awaiting the return of their family members, friends and loved ones.
"It never gets easy," said Carrie Jones of New Waterford. "It's something you come to expect and you know they can leave at anytime. But each time is as hard as the last time. You're sad when they leave, miss them when they're gone and can't wait for them to come home. There's nothing like seeing them get off the plane and knowing they're home."
Master Sgt. John Jones, 33, a communications navigation technician, has been in the Reserves 14 years and has been deployed several times.
"This was a long one," he said. "It wasn't easy. I think as the kids get older and realize more and more you're not there, it gets harder. But just being home is everything right now."
The Fadems, who are preparing for the birth of another daughter in August, plan to observe their first wedding anniversary, which passed just a few days ago while Justin was still away.
Now that he's landed safely in Ohio, John Jones said he plans to spend as much time as possible with his wife, Carrie, and children, Tayla, 8, and Jonathan, 6, who met their father with a "Welcome Home Daddy" sign.
"We realize this is what he does and you do what you have to do to get through it," said Carrie Jones. "You just have to get through it and appreciate the time you have with him and appreciate when he's home and we're all together. That's what we try to focus on. That's what gets us through."