Meet my new friend Hunter Crites, a very brave, special boy
By Todd Franko
Easter Seals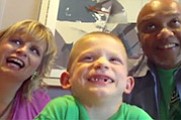 Video
When you spend a few hours with Hunter Crites of Girard, you can imagine a world of opportunities for the 7-year-old.
He has energy and agility that can dominate a football or soccer field.
He has personality that can lead a stage or a boardroom.
He has awareness and forthrightness that can care for or inspire others.
The possibilities for him are seemingly limited only by imagination.
But imagination is where some of his potential will always reside — for his entire life.
One other thing about Hunter that you cannot miss is that he was born with cerebral palsy.
As advanced as his mind, spirit and body are, his legs were not blessed with the same natural ability.
Two crutches are mainstays along his tiny forearms. Physically, the crutches support his legs. But they also propel a spirit and personality that doesn't quit.
To paint it more appropriately, imagine the 70-year-old lady you see walking down your street who's being "walked" by her 100-pound Rottweiler.
Hunter's exuberance and spirit are the Rottweiler.
I asked him if he wanted to wrestle, and he did not flinch at my challenge.
"Come here," he said. "Grab my hand."
His mom, Stephanie, warned him not to be too hard on me. I stood there knowing nothing — except that those two knew something I did not.
I bent down, grabbed his left hand that was firmly wrapped around the handle of his crutch.
Around the right side of his body, from a distance that seemed like Cincinnati, swung his right crutch — cracking me right in the shin.
One, two, three ... I was down.
I met Hunter on Thursday at the 32nd Annual Angels of Easter Seals Style Show and Luncheon.
It was my second visit at the event. (I have a long way to go to match the 23 years put in by Hot 101's A.C. McCullough and Kelly Stevens.)
The Angels — powered today by a host of ladies including Deborah Liptak, Jill Chesney, Mary Celeste VanSickle, Julie Costas and many, many more — raise thousands of dollars for Easter Seals every year.
The style show will collect about $20,000 for the Easter Seals. Combined with the Angels' recent American Girl Style Show, almost $50,000 will go into the checkbook of Easter Seals in about six weeks.
Those efforts — over the 30-plus-year lifespan of the Angels — have driven more than $8 million to Easter Seals, and 100 percent stays in our three-county area.
It goes to help kids such as Hunter.
He was diagnosed at 6 months old, and Easter Seals has been there for him ever since — first getting him to crawl, then getting him to walk.
The period has also included horrific surgeries that Hunter describes with the same ease as his favorite Nintendo DS game.
He had both of his femurs cut and reset, said his mom, because his hips were being pulled out of their sockets. He had plates installed in his legs, then removed. Tendons in his leg were also removed.
It's left a body that's challenged but a mind that's unstoppable. I actually met Hunter by accident. I was talking to another boy who had tears in his eyes. Hunter interrupted me.
He's crying because he's scared to go on stage, Hunter said. It's not easy to do, he warned, but he's been doing it for years and likes it.
"I'm not scared at all."
I have a feeling that phrase was stamped somewhere on Hunter's soul when he was born.
God makes a lot of special kids, a mom once told me. Some of them are special beyond what is seen.