Brown calls GM Cruze sure-fire ride|VIDEO
A labor leader is optimistic that GM will add one or perhaps two shifts to Lordstown.
By DON SHILLING
VINDICATOR BUSINESS EDITOR
Sherrod Brown UAW 1112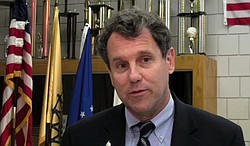 Video
US Sen. Sherrod Brown visits UAW Local 1112 headquarters in Lordstown and talks with UAW Local 1112 President Jim Graham.
NORTH JACKSON — U.S. Sen. Sherrod Brown said he thinks General Motors will continue with plans to bring its new small car to Lordstown, even if it files for bankruptcy.
The Democrat from Avon Lake said Monday that he was assured the Chevrolet Cruze was still on track when he met last week with Fritz Henderson, GM chief executive.
"Even if GM goes into bankruptcy, I have no doubt they are going to build the Chevrolet Cruze here, and they will be hiring people," Brown said.
Henderson told reporters on a conference call Monday that bankruptcy is becoming more probable.
The senator came to the union hall of United Auto Workers Local 1112 as part of his efforts to meet with people impacted by the recession.
Included were union officials, a plant executive, community leaders and a group of Delphi Packard Electric salaried retirees. Brown was headed to Chrysler's stamping plant in Twinsburg after the meeting.
Jim Graham, president of UAW Local 1112, agreed with Brown's assessment that the Cruze will bring more workers to the Lords-town plant — if the economy improves.
The plant has been trimmed to one shift of workers, but Graham said he thinks the Cruze will require two shifts or perhaps three.
"We fully expect when the economy upticks, we'll be building a lot of cars in Lordstown," he said.
The two UAW locals at Lordstown have 1,820 workers on the job and 2,650 laid off. Layoffs will go up by 150 at the fabricating plant when work on a new body shop at the plant is completed this summer, said Dave Green, president of Local 1714.
The UAW leaders said adding a second shift would bring back about 1,400 workers.
GM plans to launch the Cruze in April 2010.
Brown said he sees the high-mileage car as a key part of GM's future but added that he is concerned that GM has indicated it will expand manufacturing in other countries while continuing to cut in the U.S.
Graham and Green told the senator they are concerned that this country isn't doing enough to help its manufacturing base. They said better trade agreements are needed and more Buy America provisions in federal spending.
"We need a hero, or heroes, in Washington, D.C.," Graham said.
The salaried retirees from Packard had a brief meeting with Brown and said they want their benefits protected as Packard's parent company, Delphi Corp., meanders through a three-year-old bankruptcy case. Delphi recently received court approval to cancel health care benefits.
Bruce Gump of Howland, a former senior engineer at Packard, said the retirees can't afford to pay for health care coverage through Delphi that can cost between $1,000 and $2,000 a month.
He said the entire community is hurt because the retirees cannot afford to go out to eat or to buy clothes because of the added health-care expense.
Brown listened to the comments by the retirees and said it was "pretty outrageous" how Congress has treated the auto companies who have asked for financial help when compared to treatment received by large banks.
He also added that he thought Congress will pass health care reform that would help people without insurance.
shilling@vindy.com