MARC DANN: One year later
Marc Dann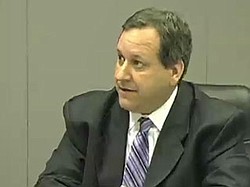 Video
The Vindicator Politics Writer David Skolnick talks to former Ohio Attorney General Marc Dann.
Some say Marc Dann's forced resignation was done for 'political' purposes while others disagree.
VINDICATOR POLITICS WRITER
YOUNGSTOWN — Forced to resign as attorney general a year ago because of scandals in his office, Marc Dann wants "to let people know how much I care about the community and how broken-hearted I really was at having to leave office."
A letter of apology from Dann as well as the transcript of a 45-minute exclusive interview in which the former attorney general discusses his time in office, the scandals that led to his resignation, why he resigned and what he's been doing the last year are inside today's edition of The Vindicator.
Since his resignation, a year ago Thursday, Dann has opened a law office in Cleveland and is working on getting his life back in order.
Dann's rise to power was an unusual one.
He was a relatively obscure state senator appointed by the Ohio Senate Democratic Caucus in late 2002 to replace Tim Ryan, who had resigned that year to serve in Congress. Serving in the minority, Dann's legislative successes in the Senate were minimal.
Then he seized on an opportunity. A scandal at the Ohio Bureau of Workers' Compensation hit, and Dann seized on the opportunity to expose what he called "pay-to-play" politics by Republicans who controlled most of state government.
Dann initially downplayed suggestions that he run for attorney general, but agreed to run in 2006.
After easily winning the Democratic primary, Dann pulled an upset defeating Republican Betty Montgomery, then the state auditor and a former two-term attorney general. Dann would later say he never expected to win.
Dann could have played an important role in improving the Mahoning Valley's shaky political reputation by focusing on his work, said state Rep. Robert F. Hagan of Youngstown, D-60th.
It was around the time Dann started getting attention for leading the charge in the BWC scandal that he changed, Hagan said.
"There were people who wanted to use him and he couldn't separate them from his friends," he said. "It's fair to say he got caught up in the celebrity aspect of politics. You watch it from the sidelines and see people ignore you to get to him, and he doesn't see they were interested only because he was the attorney general."
By all accounts, including Dann's, he made poor management decisions.
Some decisions were questioned by the media even before he took office in January 2007. Others were documented in an internal attorney general's office report, released May 2, 2008, initiated by sexual harassment complaints filed by Vanessa Stout and Cindy Stankoski, two employees, against Anthony Gutierrez, their boss, who was also Dann's director of general services and his close friend.
More bad decisions were revealed by Dann, a Liberty Democrat, who admitted after the release of that AG report that he had an extramarital affair and that he wasn't prepared to run the office when elected.
Those issues led to the firing or forced resignation of top staffers, calls from top Democratic officeholders for Dann's resignation, the Ohio House Democrats writing articles of impeachment, several investigations by state agencies and an ongoing Franklin County grand jury probe.
However, no criminal charges have been filed.
Though Dann initially resisted calls to resign, he quit on May 14, 2008.
Hagan said the forced resignation "was done for purely political purposes. It was done for the next election and that it wouldn't taint the Democrats opportunity to take the White House. The whole thing was done in haste and basically done to remove someone who people though was a liability."
In hindsight, "it looks like his forced resignation was very political," said Paul Sracic, chairman of the Youngstown State University political science department. Democrats wanted to keep "the more sordid issues" of Dann's affair and inappropriate behavior by members of his management team out of the spotlight so he had to go, Sracic said.
Ohio Republican Party Chairman Kevin DeWine said top Democrats "clearly ran this guy out of office for political purposes. They knew the political liability. There was no valor in that move."
State Rep. Mark Okey of Carrollton, D-61st, who co-wrote the articles of impeachment, said there was plenty of evidence of negligence to impeach Dann.
"I never believed there would be any criminal charges against Marc Dann," he said. "The administering of the office was enough to be impeached. You don't have to be charged criminally to be impeached."
Attorney General Richard Cordray, then the state's treasurer, was involved in discussions with other top Democrats shortly after the report was released about calling for Dann to resign.
"It was a hard decision, it was sad, but I think it was right," Cordray said. "There were concerns about his ongoing effectiveness and what more was being revealed."
Ohio Democratic Chairman Chris Redfern said there was never a discussion with top party leaders in which anyone mentioned that if Dann stayed on as attorney general it would hurt the presidential race in Ohio.
Dann "made decisions that were so egregious he had to leave," Redfern said. "I feel badly that this worked out this way. The acts were not my doing. ... We believed then, as we do now, that his actions and bad decisions led to what happened."
Dann recently said the governor's office and other Democratic officeholders recruited his senior staffers to work for them before calling for his resignation. [Dann's complete explanation is in the interview transcript in today's edition.]
Amanda Wurst, Gov. Ted Strickland's spokeswoman, said on March 4, 2008, two days after the internal report was released, the governor and other top elected Democrats met to discuss a letter calling for Dann's resignation.
"Courtesy calls were made to [Dann's] senior staff just as a heads-up that the letter was coming," she said. "They were courtesy calls only."
Several people declined to discuss Dann's resignation a year later.
They include Alyssa Lenhoff, Dann's wife; Gutierrez, who said he'd "love" to comment, but wouldn't based on the advice of his attorney; Mahoning County Democratic Party Chairman David Betras, a longtime friend and former law partner of Dann; Bentley Lenhoff, Dann's father-in-law, vocal in the defense of Dann during the controversy; and Ted Hart, one of Dann's spokesman at the attorney general's office.
Also, attempts to reach Leo Jennings III, Dann's close friend and communications director, were unsuccessful.
Michael Harshman, a longtime friend of Dann who served as his attorney and confidante during his final days as attorney general, said Dann's work on predatory lenders and those who operated illegal gambling machines will be forgotten because of the scandal.
Looking back, Harshman said Dann's biggest mistake after the report came out was being too forthcoming in admitting his mistakes.
After that, "we were overwhelmed by the statewide elected officials and the press calling for his resignation," he said. "It was a tsunami."
Harshman, paid $50,000 by Dann's campaign fund for his legal work during that time, said he's "enormously proud" that Dann's been able to open a law practice and get closer to his family in the past year.
"Lesser people would not have done as well under the circumstances," Harshman said.
Dann hired Jim Gravelle as a spokesman in December 2007. The scandal began a few months later when Stout and Stankoski filed sexual harassment complaints against Gutierrez.
At the height of the scandal, Gravelle said he was conducting 10 to 12 interviews a day for 18 to 20 days. He now has the relatively quiet job of communications director for the Ohio Department of Veterans Services.
One major problem, Gravelle said, was he and Hart, the AG offices' two spokesmen, were largely kept in the dark about what was going on. On the day of Dann's resignation, Gravelle walked past about 50 members of the media waiting in the attorney general's office lobby.
"I asked Ted Hart what was going on and he didn't know," Gravelle said. "Later, someone said to us that Marc Dann is having a press conference and he's resigning. We watched it on TV."
John Camillus, an attorney who represented Stout and Stankoski, said the ordeal was "exhausting."
It wasn't until this past January that the two women accepted a $495,000 settlement from the attorney general's office. Each received $200,000 with $95,000 going to Camillus's law firm.
"It was important for them to come forward and speak out against the corruption in the Marc Dann administration," Camillus said.
skolnick@vindy.com
KEY PLAYERS
Where are they now?
What the notables in the scandal that brought down Marc Dann's attorney general administration are doing now.
MARC DANN initially went to work for his wife selling dinnerware over the Internet. He later opened a law practice in Cleveland.
ANTHONY GUTIERREZ returned to his home in Liberty, a few houses from Dann's, and is working as a general contractor.
LEO JENNINGS remains a political consultant and writes for Youngstown State University's Center for Working-Class Studies' Web site.
CINDY STANKOSKI received $200,000 settlement to leave her job and started a non-profit organization on how to avoid sexual harassment.
VANESSA STOUT also received $200,000 as a settlement to leave her job at the attorney general's office. She left central Ohio.
STILL PENDING
A Franklin County grand jury is investigating potential illegal activity at the attorney general's office during Marc Dann's 17-month administration. The grand jury is investigating allegations of criminal misconduct by Anthony Gutierrez, Dann's former director of general services. Gutierrez is cooperating by providing information on others in the administration who may have committed illegal acts. This is the final government investigation of the Dann era.