---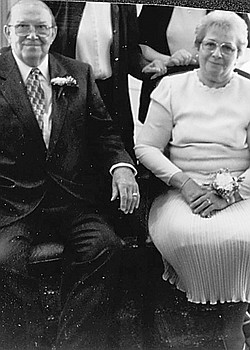 Photo
Mr. and Mrs. Thomas Skovira
STRUTHERS — The 60th wedding anniversary of Mr. and Mrs. Thomas Skovira, 477 W. Omar St., is being celebrated today during a 12:30 p.m. Mass at St. Nicholas Catholic Church, where they are members. Afterward they are being honored during a dinner party at TJ's in the Holiday Inn, Boardman.
Invitations for the observance have been extended by their family, Thomas A. Skovira of Struthers, and Kenneth A. and Debbie Skovira of St. Petersburg, Fla. There are two grandchildren in the family.
The former Emma Tisone and Mr. Skovira were united in marriage on April 30, 1949, at Our Lady of Mount Carmel Church in Youngstown.
Mrs. Skovira was a sales clerk for 10 years at Value City in Youngstown prior to retiring. She is a member of the Altar and Rosary Society.
Mr. Skovira served two years with the. U.S. Navy. He retired in 1981 from LTV Steel in Youngstown, where he was a motor inspector. He is a member Mended Hearts and the Altar and Rosary Society.