Cop cleared in dog shooting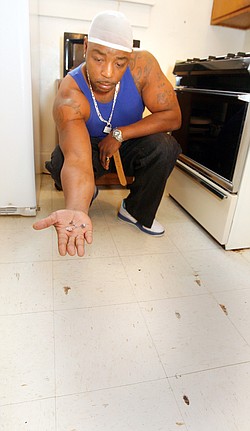 Photo
Curtis Moses of Youngstown said he understands that police officers have a job to do, but he said one Youngstown officer went too far. Moses' 7-month-old dog, Diva, was fatally shot about 13 times during a pursuit of felony suspects. He shows off the spent bullets and marks and holes on the floor left behind in the wake of the shooting on his E Lucius in Youngstown home.
The dog's owners said the dog had no history of being aggressive.
STAFF REPORT
YOUNGSTOWN — An internal- affairs investigation found that a city police officer followed procedure in the shooting death of a dog while pursuing suspects.
"We interviewed the other officers who were the only witnesses to what happened," said police Chief Jimmy Hughes. "He followed our policies and procedures. Basically, he was in fear for his life."
Officer Ryan Laatsch was among the officers in an April 5 pursuit of juveniles who'd been driving down South Side streets shooting.
The driver fled from police and pulled into a front yard on Lucius Avenue where officers chased the five suspects on foot, according to a police report.
One of the youths ran and was followed into the East Lucius Avenue home of Curtis Moses and Darcel Gilmore. The teen ran down the basement stairs to hide, and when officers opened the basement door from the kitchen, they were met by the couple's 7-month-old, 42-pound Akita, Diva.
The dog was aggressive, Hughes said, and Laatsch was within his rights to shoot it to protect himself just as if his life had been threatened by a person.
The couple previously told The Vindicator that the dog, still a puppy, had no history of aggression and had been trained to go upstairs to go outside when the basement door opened.
They said they had no relationship to the teenager who ran into their home. One of the other youths is Gilmore's son, but he doesn't live at the East Lucius home, the couple has said.
Officers didn't enter the home intending to shoot a dog, Hughes said. But they were looking for the suspects, one of whom entered the home and at least one of whom was likely armed, the chief said.
Laatsch fired 13 times at the dog, killing it.