Shows reveal sense of fashion, history for the American girl
Angels of Easter Seals' American Girl Fashion Show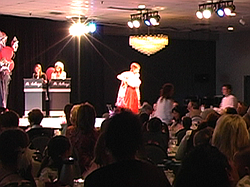 Video
BOARDMAN — From bonnets to hoodies, girls' fashion surely has come a long way.
There used to be a time when suntans were seen as "unladylike" and pants were frowned upon, even for play. Not to mention a time when girls' clothes were made from animal hides.
This weekend, the history of girls' fashion played out on a runway, with young girls modeling clothes from different time periods, based on the popular American Girl doll line.
Angels of Easter Seals hosted two fashion shows and luncheons Saturday at Mr. Anthony's Banquet Center on South Avenue. The presentation of historical and contemporary fashions continues at 11:30 a.m. and 4 p.m. today, but both shows are sold out.
Julie Costas, event co-chairwoman, said more than 300 people were expected at each of the four shows. The goal is to raise $15,000 for Easter Seals of Mahoning, Trumbull and Columbiana counties, which serves children and adults with disabilities.
Abigail Modarelli, 12, from St. Louis, came to model in the show and visit family in the Youngstown area. She portrayed the doll Samantha, who was raised by a grandmother in New York in the early 1900s.
Samantha's story line said girls during this time had to obey strict rules about proper attire and behavior. Samantha was always expected to curtsy and attend a tea party every day at 4 p.m.
"[Samantha] likes to be wild, but her grandma tried to raise her as polite with good manners," Abigail said. The two were dressed identically in black and white sailor outfits.
McKenna Boals, 13, of Salineville was dressed as Julie, a newer doll whose story tells of a girl raised in the 1970s who wears bell bottom jeans, a crocheted beanie, a white peasant shirt and a braid in her hair. "She's like a hippie, and she likes sports and jewelry too," McKenna said.
Julianna Bellino of Canfield brought daughter Isabella, 4, who helped out with the show. Her mom said the program gives girls a sense of history. "What I think is important is that it shows them tradition, and it keeps the girls young at heart," Julianna said.
Brittany Mook, 9, of Boardman, and her best friend, Isabella Marie Kelty, 7, of Canfield, were excited to attend the show, saying they are big fans of American Girl dolls.
Brittany's grandpa, John Barratt of Beloit, took the girls as a surprise and bought them American Girl scrapbooks in the vendor area.
"She's a collector and she loves the dolls," he said. "She makes out every Christmas."
Viviana Cardenas, 12, of New Castle was excited to model for her family and with her sister Christina, 7. Viviana portrayed Kaya, who grew up in 1764 in the American Northwest; the two were dressed in outfits made from faux deer hides.
"I think she's like brave and she's an Indian, and she likes adventure," Viviana said. Her sister played Josefina, who grew up on a ranch in New Mexico in 1824.
American Girl, headquartered in Middleton, Wis., aims to build strong character in girls around the world. The company has retail outlets in a handful of big cities, using witty marketing and wholesome products including dolls, accessories, books and movies to appeal to girls and their moms.
The company's popular Kit Kittredge character grew up in Cincinnati during The Great Depression when most people were forced to wear more practical, comfortable clothes. A popular saying was adopted back then that could easily apply in today's troubled economy.
The show's moderators explained that in order "to do more with less," many people had to reuse and recycle clothes and other belongings.
The popular mantra back then, according to the moderators, was "Use it up, wear it out, make it do, or do without."