Meades observe 71st anniversary at worship service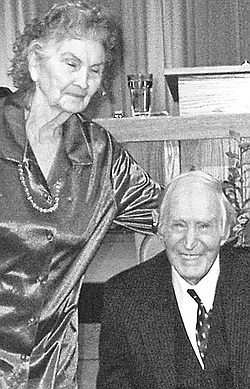 Photo
Mr. and Mrs. Lee B . Meade
BURGHILL — Mr. and Mrs. Lee Brook Meade, 4475 state Route 7, celebrated their 71st wedding anniversary by attending a worship service at 10 a.m. March 1 at Rock of Grace Church in Kinsman, where they accepted congratulations from members and friends.
The former Lorene C. Coley and Mr. Meade were united in marriage on Feb. 22, 1938, in Stillwater, Okla.
They are the parents of six children. Their family includes Virginia L. Hando; Lee B. Meade Jr.; Lorene F. Huerta and Leona May Dotter, who are twins; and Helen J. Smith and Mariam J. Barclay, also twins. Rounding out the family circle are 24 grandchildren.
Mr. Meade served with the U.S. Army in the Philippines. The couple traveled extensively throughout the United States due to the business he operated as a welder and blacksmith before retiring in 1988 in in Lake Wales, Fla., After that the couple moved to Burghill.