New name brings more to children's museum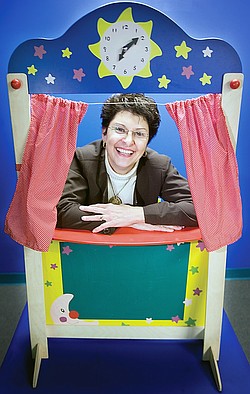 Photo
Executive Director, Suzanne Barbati, smiles through a puppet theatre at the Children's Center for Science and Technology on March 25, 2009.
More science, technology, math and engineering exhibits are at the downtown museum.
YOUNGSTOWN — Gardening is one of Suzanne Barbati's favorite pastimes.
The Boardman resident hopes to plant many seeds of education in her new position as executive director of the Children's Center for Science and Technology, which was previously called the Children's Museum of the Valley.
"I walk around [the facility] and have goose bumps most of the day because there is so much we can do here," said Barbati who started her job March 20, replacing Maggie McCloud, who resigned from the position.
An alumni of Brookfield High School and a graduate of Youngstown State University in conflict-studies education, Barbati has spent the majority of her life in the Valley.
Most recently she owned a small consulting firm that helped nonprofit agencies, including schools, get grants. Barbati also provided contract work for the Ohio Department of Education teaching students and educators about conflict management skills.
"We are living in a world full of globalization and average [education] isn't good enough," she said.
The new name of the museum sums up the direction Barbati seeks for the center in the future. Designing exhibits structured around science, technology, math and engineering for children in kindergarten through eighth-grade will be essential to increasing membership, Barbati said.
"There are endless possibilities here," she said.
The most difficult part will be narrowing down ideas to focus on priorities, Barbati said.
Establishing partnerships with area schools and local organizations such as the Butler Institute of American Art, the YMCA, public libraries and Mill Creek MetroParks is also high on Barbati's to-do list, she said.
"My plan is to connect with science and math teachers in the community," said Barbati, who noted these connections will be important to the success of a facility geared toward science education.
Sharing concepts and ideas with Valley teachers will be important because she hopes to base exhibits around the Ohio education standards to help students score higher on required state tests.
"Those changes will better accommodate our current clientele, but also build the museum to serve older clientele," she said.
Barbati also foresees rebuilding the volunteer group at the center, bringing in traveling exhibits from other cities and eventually having an exhibit from the center that would travel around the Valley.
"A couple years from now I'm thinking we'll have at facility that will be a destination for people around Ohio," she said. "This center is such an asset to the community."