Hockey at Chevy remains in limbo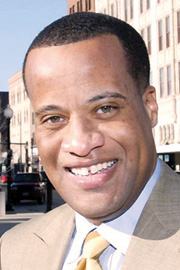 Photo
Youngstown Mayor Jay Williams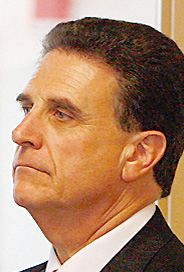 Photo
Officials, arena director meet with chief of USHL
Staff REPORT
YOUNGSTOWN — A year without hockey at the Chevy Centre?
"We'd be fine," said Eric Ryan, the center's executive director. "It's not our preference, but it wouldn't hurt us."
There have been no final decisions about the next hockey team to play at the center. Two forerunners — the United States Hockey League and the ECHL — are being evaluated by the city.
No hockey for the 2009-10 season would free many dates for other events, but the center wouldn't be able to fill all of them, Ryan said.
"It's a viable option," said Youngstown Mayor Jay Williams of a hockey-free year.
"We don't want to have hockey just for the sake of hockey."
However, hockey has brought a fan base to the Mahoning Valley, and it's growing, said Bruce Zoldan, owner of the Mahoning Valley Phantoms, the amateur hockey team that played its home games at the center.
"Missing a season of hockey would be a step back," he said.
Zoldan is promoting a USHL team to play its home games next season at the Chevy Centre. The USHL is a high- level tier one amateur league with 12 teams.
Skip Prince, commissioner of the USHL, took his first tour of the Chevy Centre and met with city officials, Ryan and Zoldan on Wednesday.
"You've got a beautiful facility," Prince said of the center.
"And you've got a strong hockey and sports marketplace, with sponsors and advertisers and fans," he said.
The North American Hockey League's U.S. National Team, which is based in Ann Arbor, Mich., recently committed to joining the USHL for its next season, Zoldan said.
If Youngstown gets a team, it and Team USA would become part of a seven-team Eastern Division in the USHL, Zoldan said.
"We're the top quality [amateur] hockey product available," Prince said.
"The very best players in the United States and North America are coming to this league to play," he said.
To put things into perspective in terms of the league's level of play, Zoldan compared it to college football.
"Is there a demand to see Ohio State football?" he asked rhetorically. "The USHL is hockey on that level."
"Half the teams have sellout crowds every night, and the other half have more than 2,000 [in attendance]," Zoldan said, predicting that a team here would likely draw crowds of about 3,000 a game.
Williams said he gained a greater knowledge of the talent the USHL would bring to the area during Wednesday's meeting.
"There is a case to be made and a need to further evaluate this league playing in the Valley," Williams said.
The city has also discussed the potential relocation to Youngstown of a professional team in the ECHL, another high-level minor league, but Williams said again nothing has been decided.
Factors that are being considered include entertainment value, fans, supporters and sponsors, Williams said.
"We don't want to make a decision haphazardly and end up with a bad situation," he said.