City's hockey future on ice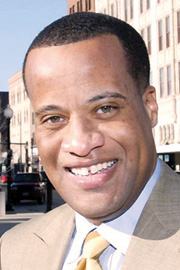 Photo
Youngstown Mayor Jay Williams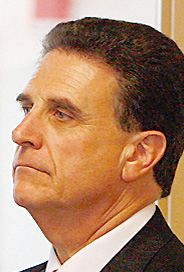 Photo

Photo
By Tom Williams
USHL commissioner Skip Prince will tour the Chevrolet Centre today.
YOUNGSTOWN — With an unspecified deadline counting down to a decision about hockey for the Chevrolet Centre, city officials will meet today with an executive for the nation's top amateur hockey league.
Skip Prince, commissioner of the United States Hockey League, is in town to tour the 4-year-old arena and discuss the virtues of his league.
The city has been scrambling for a major tenant for its arena since the Central Hockey League evicted the Youngstown SteelHounds last June.
Bruce Zoldan, owner of the Mahoning Valley Phantoms amateur team, has made a proposal to the city for having a USHL franchise play its home games next season at the Chevrolet Centre.
Since October, Zoldan's Phantoms of the North American Hockey League have played 24 games at the Chevrolet Centre. They won't be playing there next season after averaging about 1,000 fans.
Now it's Zoldan's turn with a different amateur proposal.
Last week, Mayor Jay Williams and Brian McKenna, commissioner of the ECHL (a professional minor league), said the city was conducting talks about a ECHL team relocating here.
Tuesday, Williams and McKenna said no progress has been made.
Unlike the CHL which is based in the Southwest, the ECHL has teams in nearby Dayton; Wheeling, W. Va.; and Johnstown, Pa.
Zoldan said Tuesday that the USHL is a higher level amateur league than the NAHL, with many of its alumni being drafted by National Hockey League teams or earning Division I college scholarships.
"The USHL is the highest level tier" of amateur hockey, said Zoldan, who added that the NAHL's U.S. National Team, which is based in Ann Arbor, Mich., already has committed to joining the USHL next season.
If Youngstown gets a team, it and Team USA would become part of a seven-team Eastern Division in the USHL. Other teams are the Indiana Ice (Indianapolis), Chicago Steel, Cedar Rapids (Iowa) Rough Riders, Green Bay (Wis.) Gamblers and Waterloo (Iowa) Black Hawks.
Because of controlled expenses and travel restricted to Midwest states, Zoldan believes amateur hockey makes more sense for the Youngstown market, adding that 2,500 fans per game is possible "with the right marketing. My goal would be 3,500."
The USHL franchise fee is $750,000, about half the cost of buying a new franchise for the ECHL.
Zoldan believes top-level amateur hockey is best for fans.
"In Canada, they only have four minor-league professional teams," Zoldan said. "Canada is the birthplace of hockey.
"If there are any fans who appreciate good hockey, it should be the Canadians," Zoldan said. "And they only support the NHL or junior major [leagues]."
Zoldan said Pittsburgh Penguins owner Mario Lemieux is part-owner of the USHL's Omaha Stars, whose team president is former Penguin Luc Robitaille. Another part owner is Mike Eruzione, captain of the 1980 U.S. Olympic team.
Sponsoring sports teams in the current economic environment is risky, Zoldan said. A Cleveland Cavaliers season ticketholder, Zoldan said he has noticed some empty seats for Cavs home games despite their tremendous season.
If the economy doesn't rebound soon, he believes that Chevrolet Centre attendance would be impacted for any team there.
"Two years from now might be better than one year from now," Zoldan said.
williams@vindy.com
More like this from vindy.com