Harry Meshel is anxious to get WATTS Center up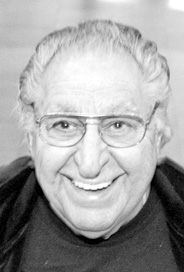 Photo
By Greg Gulas
BOARDMAN — As a member of the YSU Board of Trustees, Harry Meshel smiles when discussing the many changes proposed for the campus.
The past president of the Ohio Senate and founder of the Ohio Boxing Commission is a little concerned, however, with the delayed groundbreaking of the school's proposed WATTS Center; an indoor athletic complex.
Speaking to the Curbstone Coaches during Monday's weekly luncheon meeting at the Blue Wolf Banquet Center, Meshel spoke candidly of the immediate need for the center.
"We already have the area on campus allocated for the center so that is not an issue. The complex would include a full-size football practice area, complete with track and state of the art locker rooms.
"Our football team and men's and women's track and field teams have been very successful over the years, and with many area high schools also in need of an indoor training complex, it is only to our advantage to get the complex up and going," Meshel said.
The WATTS Center, to be named in honor of the Watson and Tressel families (each family has donated a million dollars toward its construction), already has $3 million raised and given the bond issuance and cash availability, nearly $8 million of the $10 million total cost will already have been realized.
"I was opposed to deferring the project until next year," said Meshel. "If we approved the plan immediately then we could raise the rest of the funds more easily.
"In a declining economy, and I'll use the Williamson College of Business as an example, which has already come in approximately $4 million under estimate for construction, we could possibly save on construction costs while promises for more money might increase with our commitment to the project," he added.
In addition to the proposed Williamson College of Business building, other campus projects currently in discussion include renovations to Kilcawley Center, the renovation of the top floor of Jones Hall, work on the STEM (College of Science, Technology, Engineering and Mathematics) College and the purchase of the Wick-Pollock Inn.
"My argument in favor of the WATTS Center is that students would instantly benefit by its construction," said Meshel."It is a well-known fact that YSU's sports reputation has opened many doors for prospective students, resulting in a great deal of student interest; a gate opener for enrollment, if you will," he added.
"That gives you even more of a reason to do the WATTS Center. Benefits would be derived immediately from its construction as opposed to the renovation of the Wick-Pollock Inn."
Next week, Bob Laricca, former basketball coach at Warren Western Reserve, will be the speaker.
More like this from vindy.com