Bravo! Sharpsville steps into act with opera performances in July
Sharpsville Opera House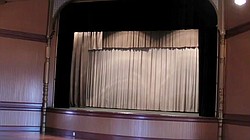 Video
Renovations have been made to an historical Sharpsville, Pa. opera house.
SHARPSVILLE, Pa. — Culture in small-town America is moving up again in the world — all the way up to the third floor of the National City Bank building at 100 N. Mercer Ave. here.
There, hidden for 80-some years under a lot of dirt and neglect, an opera house has emerged in shining new condition — with plenty of help from building owner Mike Wilson.
That's right — there's an opera house in Sharpsville. No need to jet off to New York or London to see a classic performance.
For $15, you can see the first opera to be performed at the Pierce Opera House in many decades — the comedy "Don Pasquale" by Gaetano Donizetti.
Performances are set for 8 p.m. July 16 and 18. They'll be in Italian, but don't worry if you aren't fluent.
You won't miss a word of the action in this fully staged performance, said Dr. Allen Mosher, director of the opera program at Youngstown State University's Dana School of Music. English subtitles will be projected onto a screen.
It's as comfortable a fit as a pair of well-used opera glasses perched on the nose of a grande dame — Wilson wanted the official reopening of the performance hall to feature an opera. After that, he said, he is hoping to attract a theater troupe or a dance studio to rent the space, which he rehabbed over four to five years with help from his wife, Patty, and sons Mike and Matt.
Standing at the doorway of the cavernous 3,000-square-foot hall last week, he recalled the work, which from a financial standpoint, he said, "was not a good thing to do."
He has between $20,000 and $25,000 tied up in the project, he said, mostly for materials.
It was literally a labor of love, with the emphasis on labor. He fit the work in around his duties as borough manager.
The stage had been walled up, and he tore the wall down. He rebuilt the stage too, because much of its wooden floor was rotting.
The hall's original single-bead, tongue-and-groove ceiling was re-varnished. The old wallpaper was torn off, and the walls were plastered and drywalled. Perhaps Wilson's biggest project, he said, was sanding and refinishing the pine floor.
"I rented a sander, then figured it would take long enough to make it worth my while to buy it," he said.
So that's what he did. It took him more than 100 hours, he said, to redo the floor.
Wilson bought the Pierce and Geddes building, which houses the bank on the first floor and four apartments on the second, in 1999. But the fact the opera house existed was not lost on the Sharpsville Historical Society before then.
"An old-timer in town said there was an old opera house, so we knew it was here," said Gregg Smith, historical society president.
"We didn't know what condition it was in."
Smith said that he first entered the performance hall in the late 1990s.
"It was bad," he said. "We shoveled dirt out of here."
But then, he said, historical society members realized: "Oh my gosh, everything original is here."
He pointed out the authentic footlights with the original electric connections on the front of the stage.
There were plenty of other old treasures, as well. Wilson found the opera house's ticket booth, with old playbills still covering the walls, after he knocked out some bricks to run new plumbing for the apartments.
It had been walled away, like a secret room, when a new staircase was put in over top of the precarious old spiral stairs that used to lead to the third floor.
Behind the stage, there's some writing on the walls. But this particular graffiti won't be cleaned away or painted over.
Any graffiti he found, Wilson said, he carefully preserved — there are names and dates there from graduating classes who used the hall for commencements in the 1800s and early 1900s.
Though Sharpsville considered the Pierce hall its opera house, it had other uses, Mosher said. He speculates the playbills on the ticket booth walls are from old movies, not operas.
The Pierce hall does not have an orchestra pit, which a true opera house does have, he said, though its size is not necessarily an issue.
Mosher said there are small opera houses "all over Italy," and he came across "a jewel of an opera house" in the Tuscan hills that was half the size of Pierce.
He said that opera in small-town America was popular post-Civil War, with towns wanting to have places where traveling troupes could perform.
"That gave a town a certain class," he said.
After the phonograph came along, the first recording stars were opera singers, he added.
Mosher found out about the Pierce hall from his friend Dr. Frank Cano, president of the Valley Lyric Opera based in Greenville.
No, Greenville does not have an opera house, though Mosher is sure there were others in the area. One he knows of, he said, is in Cortland.
Mosher, who is stage director for the July performance, said he chose the comedy "Don Pasquale" because a small cast can pull it off without an orchestra. "An orchestra in that hall would be too much sound," he said.
Cano's son Tristan, a graduate of the University of Cincinnati's College-Conservatory of Music and an aspiring opera conductor, will play piano as well as conduct.
Cast members will include nationally known bass-baritone Jason Budd in the title role.
Budd, one of Mosher's former students, is from Hubbard. Other performers will include Corinne Morini, a lyric-coloratura soprano from Ellwood City, and Matthew Miles, a tenor from Boardman.
The performance will benefit the historical society.
starmack@vindy.com
More like this from vindy.com