Panel fines Dann $1,000; grand jury probe continues
The commission declined to refer his case to a criminal prosecutor.
By MARC KOVAC
VINDICATOR CORRESPONDENT
Marc Dann Discusses the Case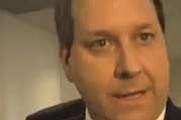 Video
COLUMBUS — Though the Ohio Elections Commission declined to refer Marc Dann for criminal prosecution — at least for now — it doesn't mean the ex-attorney general's legal concerns are over.
A Franklin County grand jury is investigating potential illegal activity at the attorney general's office during Dann's 17-month administration.
"Anything ongoing would still be there," said Ron O'Brien, Franklin County prosecutor.
He took it a step further.
"I'm not sure what effect, if any, the decisions by the elections commission would have on election law issues in the ongoing inquiry," O'Brien said.
There are issues about how Dann used his campaign fund. Among the key questions raised by the Ohio Ethics Commission is payment of about $100,000 from the campaign to Leo Jennings III, a political consultant who also worked for Dann as his communications director in the attorney general's office.
Dann and Jennings have insisted the payments were appropriate.
At the center of the grand jury investigation is allegations of criminal misconduct by Anthony Gutierrez while he served as director of general services under Dann at the attorney general's office.
Gutierrez is cooperating with the investigation by providing information on others who may have committed illegal acts during Dann's administration, three sources close to the investigation have said.
Dann said Thursday he is considering whether to appeal a state panel's decision that he and his campaign broke the state's election laws.
The former Democratic office-holder also continued to vehemently deny criminal wrongdoing and vowed to fight to clear his name.
"I'm entirely confident that neither I nor anybody in my family or my campaign committee committed any crimes," Dann told reporters.
Dann was in Columbus Thursday for preliminary hearings on complaints brought against him and his election campaign committee by the secretary of state and Ohio inspector general.
The secretary of state questioned the legitimacy of Dann's use of campaign funds for more than $40,000 in security systems for his home and $4,300 for cellular phone expenses.
The state argued Dann should have paid for the expenses out of pocket, then sought reimbursement for the costs, a method outlined by the elections commission. Reimbursements are granted for expenses proven to be legitimate... necessary and incurred in connection with the duties of a public officeholder.
"Campaign money simply cannot be converted for personal use," said Melinda Osgood, an assistant attorney general representing the secretary of state's office.
Osgood said the Dann campaign should have sought an advisory opinion from the elections commission or guidance from the secretary of state before paying the cell phone bills or installing the security system instead of doing both and then asking the commission to allow them.
But legal counsel for Dann countered that the expenditures were legitimate, given threats and security concerns.
Atty. Donald McTigue, representing Dann, said the home security system replaced state-provided officers providing security to the home. The detail was authorized by the governor following a June 2007 telephone threat.
McTigue added that Dann was informed that state funds could have been used to pay for the security system, but he declined.
"Mr. Dann said, 'No, I don't want to use taxpayer money,'" he said.
McTigue said Dann and his wife paid the cell phone bills about half the time, and the campaign paid them directly at other times. McTigue concluded, "All of this was publicly disclosed. Nothing was hidden. There were real threats, and candidates' committees have wide discretion in determining how to use campaign funds."
The elections commission ruled that Dann's actions did not rise to criminal misconduct and declined to refer the matter to the county prosecutor.
But commissioners did fine Dann for using campaign contributions to pay for a security system at his home.
Dann and his campaign were each fined $1,000 for the security system payment. Both also received public reprimands but no fines for the cell phone complaint.
The commission dismissed complaints against former campaign treasurer Bruce Lev.
It denied Dann's motion to dismiss a complaint brought by the Ohio inspector general and will hear that case at a full hearing at a later date.
In a report released in late December, the inspector general alleged cronyism and "hiring missteps," sexual harassment and other improper activities and wrongdoing under Dann's leadership. The report also raised questions about Dann's use of campaign finances.
McTigue argued that the inspector general did not have the authority to bring a complaint to the elections commission. The commission disagreed.
CONTRIBUTOR: Vindicator staff writer David Skolnick
More like this from vindy.com