Canfield Group Assault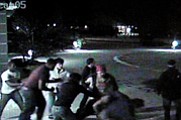 Video
February 22, 2009. Canfield, Ohio
Mooney teens charged in assault
By Elise Franco
11 students to be arraigned today
CANFIELD — The legal process begins today for one Canfield High School student and 10 of the 14 Cardinal Mooney High School students involved in a Feb. 22 brawl.
A Canfield court spokesman said two of the Mooney students, Dominic Jackett, 18, of Youngstown, and Scott Johnson, 18, of North Jackson, have hired attorneys.
"They have sent the court written statements of a not-guilty plea, which means they do not have to appear in court," the spokesman explained.
He said it's possible more of the men will do the same before the 5 p.m. arraignment in Mahoning County Area Court in front of Judge Scott Hunter.
Canfield High student Michael Malvasi Jr., 18, of Canfield, is set to appear on a charge of assault, accused of punching Jackett on the morning of Feb. 22 on Fox Haven Drive in Canfield Township. That incident is what police said prompted a 14-on-one assault in Malvasi Jr.'s Timber Run Drive front yard later that same morning.
Tuesday afternoon, Canfield police released the recording of the 911 call placed by Malvasi's mother, Missy, while the fight was taking place.
During the call, she told the dispatcher that "a bunch of kids" pulled up to her property and a fight began.
She said at one point her husband, Michael Malvasi Sr., got involved in the scuffle. Police reports indicated that after a brief encounter with Kyle White, 18, of Boardman, Malvasi was punched in the head by White.
Later in the call, after Missy Malvasi realized her husband had been injured, she pleaded with police to hurry.
"My husband is bleeding in the head. They hit my husband in the head," she said. "He's bleeding. Can you hurry? Please hurry."
White, along with Dan McGlone, 18, of Boardman; Matthew McWilson, 18, of Youngstown; Peter Bernat, 19, of Youngstown; Nicholaos Frangopoulos, 18, of Poland; Owen Timlin, 18, of Youngstown; Michael Thomas, 18, of Boardman; and Adam Wheeler, 18, of Poland, are also set to appear on a charge of aggravated trespass.
Additionally, four of the men — McWilson, White, Johnson and Frangopoulos — are charged with assault.
If convicted, each first-degree misdemeanor charge could bring a sentence of six months in jail and a fine of $1,000.
Four juveniles are also charged in the incident. Their cases will be reviewed by the Juvenile Justice Center at a different time. All four of the juveniles are charged with aggravated trespass and assault.
Judge Theresa Dellick of Mahoning County Juvenile Court said it's not uncommon for teenagers to feel the mob mentality.
Judge Dellick is not associated with the Wednesday hearing but deals with teenagers close to this age group daily in her role.
"People feel strength in numbers," she said. "The smartest kids do the dumbest things in certain situations. Does it make it right? No."
Judge Dellick said a study conducted by neuroscientist Jay Giedd of the National Institute of Mental Health and neurologist Paul Thompson of the University of California at Los Angeles proved it has to do with a combination of three things: access to video-game and television violence, the constant development of the frontal cortex of the brain from age 11 to 21, and hormones.
"The frontal cortex controls impulsivity and risk taking," she said. "Then you have, on top of that, hormones, which can begin raging in the teen years.
"Testosterone in excessive doses can effect behavior negatively."
Officials from Cardinal Mooney High School were not available for comment.
Michael Malvasi Sr., Malvasi Jr.'s father, said he did not wish to comment.
efranco@vindy.com
News
Opinion
Records
Communicate
Media
Subscribers
Classifieds
Services