Canfield assault cases to court | AUDIO/VIDEO
Canfield Group Assault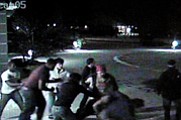 Video
February 22, 2009. Canfield, Ohio
CANFIELD — The legal process begins Wednesday for one Canfield High School student and 10 of the 14 Cardinal Mooney High School students involved in a Feb. 22 brawl.
A Canfield court spokesman said two of the Mooney students, Dominic Jackett, 18, of Youngstown; and Scott Johnson, 18, of North Jackson, have hired attorneys.
"They have sent the court written statements of a not guilty plea, which means they do not have to appear in court," the spokesman explained.
He said it's possible more of the men will do the same before the 5 p.m. arraignment in Mahoning County Area Court in front of Judge Scott Hunter.
Read more in Wednesday's Vindicator and Vindy.com