10 Mooney students charged in Canfield assault | AUDIO/VIDEO
Canfield Group Assault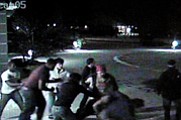 Video
February 22, 2009. Canfield, Ohio
By Elise Franco
CANFIELD — A group assault will land 10 Cardinal Mooney High School students in Canfield court Wednesday.
An incident that occurred during the early morning of Feb. 22 between Michael Malvasi Jr., 18, of Canfield, and Dominic Jackett, 18, of Youngstown, prompted Jackett and a group of nine more adult and four juvenile males to confront Malvasi Jr. at his home on Timber Run Drive, police reports state.
Both men told police that Jackett and several friends were parked on Fox Haven Drive in Canfield Township about 12:30 a.m., when Malvasi Jr. pulled up behind them in his car.
Detective Dave Benigas, of the Mahoning County Sheriff's Department, said Jackett's car was blocking the road, so Malvasi Jr. honked his horn signaling Jackett to move.
"Malvasi then exited his vehicle and struck Jackett in the face," Benigas said.
Jackett told Canfield detectives that he didn't provoke Malvasi Jr. and decided to gather a group of friends to go to the Timber Run Drive home and talk about what happened. Malvasi Jr. attends Canfield High School, police said.
Canfield police said when the group arrived at Malvasi Jr.'s home just before 1 a.m., they approached the front door and tackled Malvasi Jr. from the porch onto the front lawn.
The victim's mother called 911 from inside the residence.
When police arrived the fight had already been broken up, and some of the males attempted to flee.
Officers observed Malvasi Jr., who had been kicked and punched several times, shirtless with visible injuries to his face, hands and chest.
Michael Malvasi Sr., the victim's father, was also involved in the altercation.
Malvasi Sr. had a cut to his forehead after being punched by Kyle White, 18, of Youngstown, the police report says.
White told police that Malvasi Sr. came outside, began yelling and grabbed him by the collar, which is why White said he punched him in the head.
Malvasi Sr. informed police that a security camera on the family's property recorded the entire episode.
Over the next few weeks, police took voluntary statements from all parties involved then showed each of them footage of the fight outside the Malvasi residence.
Canfield Detective Brian McGivern said the adults were cited in lieu of an arrest.
"Basically these 14 kids were all good kids who got together and made a bad decision," he said.
James Cooney, assistant principal at Mooney, said he would not comment on the incident until more information was known. Sister Jane Marie Kudlacz, principal of the school, did not respond to a message left seeking comment.
The 10 adults will appear in Mahoning County Area Court in Canfield at 5 p.m. Wednesday on a charge of aggravated trespass.
Additionally, four of the men, Scott Johnson, 18, of North Jackson; Matthew McWilson, 18; Nicholaos Frangopoulos, 18; and White, are charged with assault.
Malvasi Jr. was charged by the Mahoning County Sheriff's department with assault in relation to the initial incident on Fox Haven Drive, and will also appear Wednesday in Mahoning County Area Court in Canfield.
If convicted, each first-degree misdemeanor charge could hold a sentence of six months in jail and a fine of $1,000.
Cases for the four juveniles involved in the episode will be reviewed by the Juvenile Justice Center.
efranco@vindy.com
For details on charges, visit this link.