Teens mad for ballroom dance
Dance lessons for students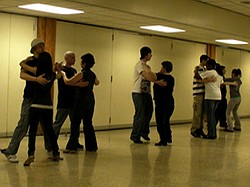 Video
The Youngstown Warren Chapter of USA Dance provides pre-prom ballroom dance lessons for area students. The students in this video are learning the waltz at Austintown Fitch High School.
By Bob Jackson
The teen dancers said the basics they're learning now should serve them well when they get older.
AUSTINTOWN — March Madness was well under way, and Brendan O'Hara was using all his best moves. A sharp step forward, a quick jut to the side and a smooth, quarter-turn spin.
Yep, it was March Madness alright, but it had nothing to do with the annual NCAA basketball tournament. It was March Ballroom Madness, where area high school students were being taught the basics of ballroom dance at Austintown Fitch High School.
O'Hara, 15, a sophomore at Chaney High School, was among about a dozen dance students who showed up Saturday morning to learn the fundamentals of waltz and salsa dancing.
Similar classes are being taught at Boardman High School.
"There seems to be a high degree of interest in this type of dancing," said Steven Barba of USA Dance Youngstown-Warren Chapter 2015, which sponsored the event. "Last year we taught it at JFK. This year, we're trying to expand it."
Barba, of Austintown, teaches band at Chaney and has taught dance to some of his students for years. Twenty-four had signed up for Saturday's lessons, although only about half that many actually showed up.
Linda McPhail, who operates A Time to Dance studio in Youngstown, was on hand to help instruct the kids and guide them through the basics. She constantly encouraged the young charges, especially the males, to look up and ahead, resisting the natural tendency to look down at their feet while learning new steps.
"When we dance, it's not boys and girls, it's ladies and gentlemen," McPhail said. "Because ballroom is a very polite thing. It's not just grabbing a girl and throwing her across the floor."
McPhail, of Boardman, showed the dancers how to "rise and fall" on the balls of their feet while dancing the waltz, which gives the dance a more elegant look than if they simply walked through the steps.
For much of the lessons, McPhail counted out loud, helping the young dancers to keep time and remember the steps she had just taught them.
But she also challenged them to get a feel for the timing and rhythm of the music while they danced, "Because I won't be there to count it out for you when you're really dancing."
O'Hara, who is one of Barba's band students, said he enjoys ballroom dancing and is glad to have someone teaching him how to do it while he's young.
"It's nice to know this in advance," he said. "So when you go places to dance, maybe you're not a professional, but you can still look good out there."
Brent Jones, a 17-year-old senior from Howland High School, echoed that sentiment and said knowing the basics of ballroom dance will hopefully serve him well as he grows older.
"At least this way, if you want to go someplace and ballroom [dance], you'll know what you're doing," he said.
Tony Durkin, a 15-year-old Chaney sophomore, said ballroom dance is a nice change from the type of "gangsta" dancing practiced by most teens these days.
"This just looked like fun, so I wanted to try it," said Durkin, wiping sweat from his face after the lesson. "And it's exhausting."
For Kaitlyn Cook, ballroom dancing is just a natural progression in her dance training.
"I've danced my whole life," the 15-year-old Chaney sophomore said. "I just wanted to expand it and learn something new, maybe learn some new ways of partner dancing."
Cook and O'Hara said they were surprised that more kids didn't come Saturday to take advantage of the free lessons.
Barba said that with classes being only about two hours a week, over a four-week period, there is no way the students will be able to master all the moves.
"This is just showing them the basics," he said. "It's hopefully going to give them something to build on so they can get around the floor."
He said the popularity of the television show "Dancing With the Stars" has generated an interest among young people in learning how to ballroom dance.
Next week's lessons will include instruction on tango and rumba. Other dances will include cha-cha and East Coast Swing.
And although the lessons are timed, in part, to coincide with prom season, Barba and the young dancers acknowledged that it's unlikely any high school proms will include music to waltz by.
"But it doesn't matter," said Cook, a smile beaming from her face. "This is fun."