Dann's campaign board sues Gutierrez, alleging improper use of fund


Photo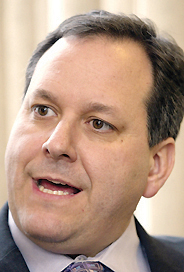 Photo
Former Ohio Attorney General Marc Dann
The former manager is accused of improperly taking campaign money.
GIRARD — Ex-Attorney General Marc Dann's campaign committee is suing Anthony Gutierrez, a former manager in the attorney general's office, accusing him of improperly taking $5,000 from the campaign fund.
Though Dann's committee filed the complaint Jan. 26 in Girard Municipal Court, a pretrial hearing hasn't yet been scheduled. The court is waiting for a response to the complaint by Gutierrez. Dann's committee is also suing MTV Construction LLC, a contracting business operated by Gutierrez and his wife, Lisa.
Dann and Gutierrez live close to each other on Northlawn Drive in Liberty.
An inspector general investigation of the attorney general's office during Dann's 17-month administration accused Gutierrez of improperly taking $5,000 from Dann's campaign fund in late 2007. The Ohio Ethics Commission and the Ohio Elections Commission determined Gutierrez improperly took the money.
The matter is in the hands of a Franklin County grand jury. Gutierrez is cooperating with that county's prosecutor's office in exchange for a plea agreement, three sources close to the investigation have confirmed.
Gutierrez had a company that installed a security system and windows at Dann's home add $5,000 to the bill, according to the inspector general's report. Gutierrez then instructed the contractor, Water Street Door Co., to write checks to three creditors to whom his company owed money, the report states.
Dann's campaign committee is suing for the $5,000 plus filing and other court fees and interest.
Dann fired Gutierrez on May 2, 2008, after an investigation criticized the office under Dann as unprofessional, hostile and filled with cronyism. Dann resigned under pressure 12 days later.
skolnick@vindy.com
More like this from vindy.com