Dann's campaign committee sues Gutierrez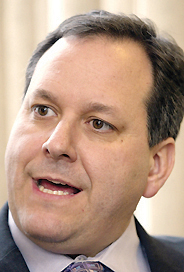 Photo
Former Ohio Attorney General Marc Dann


Photo
GIRARD — Ex-Attorney General Marc Dann's campaign committee is suing Anthony Gutierrez, a former manager in the AG's office, accusing him of improperly taking $5,000 from the campaign fund.
While Dann's committee filed the complaint on Jan. 26 in Girard Municipal Court a pretrial hearing hasn't yet been scheduled. The court is waiting for a response to the complaint by Gutierrez. Dann's committee is also suing MTV Construction LLC, a contracting business operated by Gutierrez and his wife, Lisa.
Dann and Gutierrez live close to each other on Northlawn Drive in Liberty.
An inspector general investigation of the attorney general's office during Dann's 17-month administration accused Gutierrez of improperly taking $5,000 from Dann's campaign fund in late 2007. The Ohio Ethics Commission and the Ohio Elections Commission determined Gutierrez improperly took the money.
For the complete story, read Friday's Vindicator or Vindy.com