Dann hearing again postponed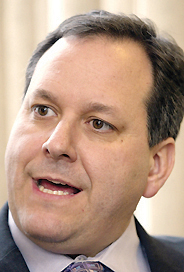 Photo
Former Ohio Attorney General Marc Dann
SPECIAL TO THE VINDICATOR
COLUMBUS — The Ohio Elections Commission has again postponed a hearing related to alleged campaign violations against former Attorney General Marc Dann.
Dann and others connected with his campaign were scheduled for a preliminary review before the seven-member board today, but the commission opted to continue the case for two weeks, rescheduling the session for March 19.
The complaint and accompanying documents include hundreds of pages of information and motions. Executive Director Philip Richter said the commission wants to ensure the sides involved had ample time to respond to arguments and motions.
In a released statement, Richter said that Dann's attorney last week "filed a number of documents" and that "the issues raised in some of those filings require that the Inspector General's attorney be allowed to present his side of the argument. Because of the short duration of time between those filings and [today's] meeting, all of the commission members agreed that a continuation of the cases is necessary."
The elections commission hears cases involving alleged violations of the state's campaign laws.
The Ohio Inspector General and Secretary of State have filed complaints against Dann and others associated with his campaign, alleging violations of the state's campaign finance law. Dann, who resigned as attorney general last year, has denied the validity of the claims.
More like this from vindy.com