---
The area's unemployment rates have just about doubled since fall.
By DON SHILLING
VINDICATOR BUSINESS EDITOR
Looking For Work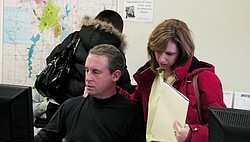 Video
Unemployed Boardman, OH residents Cheryl and David Bishop look for jobs.
David and Cheryl Bishop don't need statistics to know that this is the worst local job market since the steel mill closings of the early 1980s.
The Boardman couple lives it every day.
Each of them has impressive management credentials but has been looking unsuccessfully for a job for months.
"It's very difficult. There are so many people looking for positions," said Cheryl Bishop, who will lose her job Sunday as operations manager of the Circuit City in Ross Park, Pa.
State officials said Tuesday that area unemployment rates in January soared to their highest levels in 26 years.
Trumbull County, which is being rocked by 2,800 layoffs at General Motors, posted a jobless rate of 14.7 percent. Mahoning and Columbiana counties weren't far behind at 13.4 and 12.8 percent, respectively.
Warren's jobless rate was 15.5 percent in January, and Youngstown's was 14.4 percent.
Jobless rates for the three counties ran about 7 percent for most of last year, increased some in December and then exploded in January.
"Obviously, we haven't reached the bottom yet," said Bert Cene, director of the Mahoning Columbiana Training Association.
He noted the jobless rates are approaching the grim days of the early 1980s when the region's jobless rate peaked at 21.7 percent.
The ripple of layoffs has spread throughout the local economy following the cutbacks at GM. Area auto suppliers have laid off more than 500 people as Lordstown and other auto plants scale back production.
The slowdown has spread far beyond auto, however. A variety of steel fabricators, aluminum extruders and other processors have trimmed staff as demand for industrial and consumer goods has fallen.
Severstal Warren, which used to be known as WCI Steel, has indefinitely shut down its steel mill and has about 800 workers laid off.
"It is across all sectors. It's a snowball effect at this point," Cene said.
Cheryl Bishop, 43, is one of those hurt as the recession tumbled over into the retail sector. Her employer, Circuit City, is closing all of its stores as consumers pull back on spending.
Bishop has been with the chain for 21 years, mostly in store management and as a regional trainer. On Tuesday, she and her husband were at Mahoning County One-Stop, 141 Boardman-Canfield Road, talking about services the state offers and trolling for jobs online.
"I never thought I'd be in this position. At least, I hoped that I wouldn't be. It's uncomfortable, but I'll make the best of it," she said.
David Bishop, 50, figures that the couple and their two children probably will have to move to find work.
He had stopped working when his wife was traveling as a regional trainer but started making other plans last year when Circuit City ran into financial trouble. Six months ago, he was ready to take a position as a maintenance supervisor but the position was pulled at the last minute because of a hiring freeze.
"It's a little scary, but I tend to be more of an optimist," said Bishop, who also has worked as a store manager.
David Fleischer, 39, of Youngstown is adopting the same attitude even though he lost two jobs in 2008.
"My grandpa used to say that when you have nothing else to lose, there is only one way to go — up," he said.
Fleischer was laid off by a Boardman window-maker in January 2008 but in July landed a temporary job at Comprehensive Logistics in Austintown, a GM supplier. In November, he was hired as a full-time forklift operator, making $9.50 an hour plus benefits.
He lost his job in December because of the slowdown in production at the Lordstown car plant.
Bill Turner, administrator of the Trumbull County One-Stop, said many of the area jobless are brushing up their computer skills, cleaning up their resume and working on their interview skills.
"They are working on their soft skills for the jobs we hope will be there — someday," he said.
In the meantime, many adults will be taking fast food, retail and other jobs that normally are taken by teenagers and college students in the summer, he said. That means many high school and college students could be left without work, he said.
shilling@vindy.com