Young executive says new role is not one to be taken lightly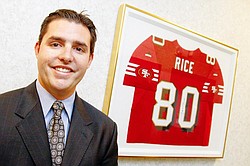 Photo
Jed York stands next to a Jerry Rice jersey at DeBartolo Corporation in Boardman, Monday June 29, 2009.
By Tom Williams
Jed York serves as president and owner for the San Francisco 49ers.
BOARDMAN — From Lombardi trophies to the Stanley Cup, Canfield native Jed York has spent much of his 28 years surrounded by professional sports.
One of the youngest executives in sports history, York knows from his own experience cheering passionately for his favorites that his new role with the San Francisco 49ers is not one to be taken lightly.
"This isn't the best economic time for people," said York, who was in town Monday for the Edward J. DeBartolo Memorial Scholarship Foundation dinner. "There is a lot of uncertainty out there.
"Whatever sport that you follow, when your team does well and your team achieves success, you feel better about yourself," the 1999 graduate of Cardinal Mooney High said, "and you feel better about your situation, no matter how tough your situation is."
Just after the 49ers' 2008 regular season ended, York, who has been working with the front office since 2005, was promoted to team president and owner. His parents, John and Denise DeBartolo York, are now team chairmen as their oldest of four children has taken over running day-to-day operations of the NFL club.
"I'm in a place with my position as president of the 49ers that I can really affect how millions of people feel about themselves by building a team that wins on Sundays," York said, "and that to me is just so powerful and such a great responsibility that you have to take so seriously.
"I know how important it was as a little kid growing up crying when the 49ers lost the 1990 championship game to the Giants, when we should have three-peated," said York, also an avid Pittsburgh Penguins fan.
"I've always approached [working for the 49ers] as a fan first," York said. "Hopefully, I can deliver a couple of championships, and our fans can really celebrate and they can forget about some of the other things that trouble them other days during the year."
The 49ers have been in York's family since 1977 when his uncle, Eddie DeBartolo Jr., became owner. The first team to win five Super Bowls, York's parents assumed control of the team in 1999.
After graduating from Notre Dame in 2003 with degrees in finance and history, York began his career working for Guggenheim Partners in New York. His goal was to someday work for the team, but that plan accelerated after the 2004 team went 2-14, prompting John York to fire coach Dennis Erickson after just two seasons.
"We didn't think it made a lot of sense to drop the owner's kid on a new head coach in the middle of his tenure," said York, whose first role was to learn what went on.
"I worked probably three-or-four weeks in every single department, literally starting in the equipment room learning how to sew jerseys, washing clothes, learning how to tie icebags," York said. "It was good for me to see how the organization works from the ground up and get to know just about every single employee."
Soon, he was promoted to vice president of strategic planning. In addition to participating in several key hires including general manager Scot McCloughan and current coach Mike Singletary, York has been active in the team's pursuit of a new stadium to replace aging Candlestick Park.
York is optimistic that the city of Santa Clara, which is located about 30 miles south of San Francisco, will have a ballot issue in 2010 on providing funding for a new stadium. The 49ers' practice facility and headquarters are in Santa Clara.
York said his job has not become more difficult since being promoted.
"It's actually easier because the hierarchy is [now] a clear picture," York said.
With his son in charge, John York has found more time to work with the 49ers Foundation.
"We talk at least three times a week on business," York said. "He's now able to do much more in the community, meet with sponsors and doing things that are much more enjoyable."
York credits his family for teaching him skills that have helped him cope with a high-pressure position.
Of his father, York said, "When we were little, his rule was always that you can go to any games that you want but you have to go to school the next day. He always taught the priority that the work always got done first. That's been a huge lesson for me."
His mother's influence includes how to handle slights.
"We've been at meetings and people have asked her for a drink [thinking] she was a waitress," York said. "I've seen how she handles it. My mother's demeanor is that you can't get offended by something that someone else does. I think my mother keeps her cool in situations like that better than anybody.
"She reads people [well] and associates herself with the right people. She has a very good knack for who she wants to have on her team and that's something that I think I've gotten from my mom. It's not [about] hiring the smartest person, it's hiring the best person."
His grandfather, Edward J. DeBartolo Sr., the shopping-mall developer who owned the Penguins from 1977-91, taught him to not be afraid to stand tall.
"When you're 7 years old and holding your own playing cards with my grandfather and his friends, it makes you feel a lot more comfortable when somebody tries to use their experience as an advantage over you," York said.
"I saw his determination, I saw his work ethic and how important it was for him to strive for perfection every day," York said of DeBartolo, who died in 1994. "That's something I want to carry on with my life.
"He's given me so many opportunities and I consider myself one of the luckiest people in the world, being able to have the opportunities to do whatever you want," York said. "I really feel obligated to carry on the traditions and the legacies that my family has started."
York has regular conversations with DeBartolo Jr., who lives in Tampa, Fla.
"It's meaningful conversation as opposed to abundance of conversation," York said. "I think I learned patience from my uncle. You need to find the right people and let them manage things that they can do better than you can.
"I think that's how my uncle treated the 49ers. He set the bar for excellence. Obviously, I think he deserves to be in the [Pro Football] Hall of Fame."
williams@vindy.com