At BET Awards, Jackson's legacy honored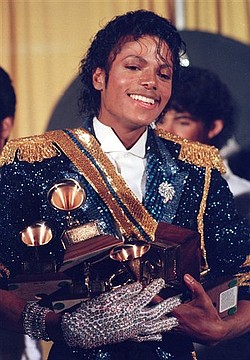 Photo
FILE - In this Feb. 28, 1984 file photo, Michael Jackson is seen backstage at the 26th annual Grammy Awards in Los Angeles as he poses with the awards he won in eight different categories. (AP Photo/Reed Saxon, file)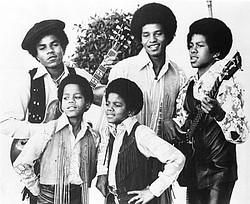 Photo
FILE - In this undated file photo, the Jackson 5, Michael Jackson, front right, Marlon Jackson, front left, Tito Jackson, back left, Jackie Jackson and Jermaine, back right, are shown in Los Angeles. (AP Photo, file)
More on Jackson's life and death
LOS ANGELES (AP) — The BET Awards became the official Michael Jackson TV celebration Sunday, with joyous tributes to the King of Pop from a New Edition medley of Jackson 5 songs to host Jamie Foxx's tender monologue delivered in that classic red leather zipper jacket and white glove.
"No need to be sad. We want to celebrate this black man," said Foxx, who kicked off the show with a re-enactment of the choreography from Jackson's iconic "Beat It" video in front of the star-studded crowd, on its feet from the start of the show.
Joe Jackson, the singer's father, was on hand to represent the grief-stricken family. "I just wish he could be here to celebrate himself," he said. "Sadly, he's not here, so I'm here to celebrate for him."
Already an affair of major star wattage, the night's show at the Shrine Auditorium was thrown under a white-hot spotlight in the wake of Michael Jackson's death Thursday, adding attendees and guests, doubling the number of media requests, adding an extra half-hour to the telecast and even lengthening the red carpet to accommodate all who wanted to take part.
Backstage, Ciara recounted talking on the phone with her idol and her regrets that she never got to meet him. As she talked, she started to cry. "He meant so much to me," she said through tears.
While Jackson's incredible influenced stretched across genres, races, and cultures, he had a very unique place in the world of black entertainment. His influence is arguably most visible in urban music, seen in stars like Usher who mimic his dance moves, to Ne-Yo, whose music is marked by its Jackson-isms. But that influence went beyond music: Jackson was black America's biggest star, who broke racial barriers that allowed for so many other superstars to follow.
Producers of the annual awards show — which recognizes the best in music, acting and sports — revamped the show to meet the moment. Though Beyonce and T.I. were the leading award nominees with five apiece, giving out trophies was an afterthought: Honoring Jackson became the show's main focus.
Though some performed their own hits, most made sure to incorporate some of the man who influenced them in their performances. A chant of "Michael Jackson, Michael Jackson" was heard while Keri Hilson performed, and Foxx's "Blame It" incorporated some of the Jacksons' dance hit "Blame It On the Boogie."
Throughout the night, Foxx also regularly turned up in some of Jackson's signature looks, such as the wide-collar black leather outfit from "Billie Jean."
More like this from vindy.com