Now is a berry good time of year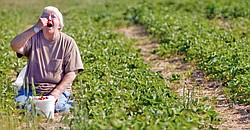 Photo
Barb Chronister takes a quick bite as she picks a couple of quarts of berries at Haus' Orchard in Canfield.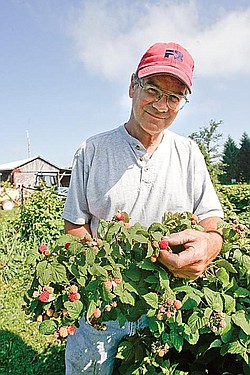 Photo
Matt Haus checks a red raspberry plant. The week's warmer weather should bring the crop on at Haus' Orchard in Canfield.
The warmer weather and sun-speckled days signify that summer's popular berries, such as strawberries, raspberries, blueberries and blackberries, are ripe or soon to be ripe for picking.
Sweet, versatile and colorful, summer berries are an ideal ingredient in many recipes or can be enjoyed alone, as nature intended.
And, aside from the appetizing aspect, some area farm markets offer an interactive alternative to the berry-buying experience with pick-your-own berry service.
MaryAnn Gasper of Gasper's Gardens, 5720 South Range Road, Salem, said pick-your-own strawberries is an old-fashioned and fun family activity.
"They [families] want the family experience, bringing their kids to the farm and seeing where food comes from," she said.
Gasper's has offered pick-your-own strawberries since the farm market opened in 1983, and although popularity has tempered throughout the years, Gasper said families still enjoy the activity. Pick-your-own season begins at Gasper's in early June and typically runs through July 4, depending on the weather.
Strawberry season typically peaks in June, but can last until early July, depending on the temperature. If temperatures are lower, strawberries will typically have a longer season. High temperatures cause strawberries to ripen too quickly, she said.
Gasper's offers about eight different strawberry varieties, all of which are good for baking and using in recipes, but the Earliglow variety is often best suited for preserve making, she said.
At Gasper's, staff members are available in the fields to help customers with picking questions and to maintain picking traffic flow. Pick-your-own customers must pick a minimum of eight quarts, and pick-your-own is typically offered from 7 a.m. to noon Mondays through Sundays, weather permitting.
Just down the street at Haus Apple Orchards and Cider Mill at 6742 Calla Road in Canfield, pick-your-own strawberry season is beginning to wind down. Strawberry season at Haus' also typically lasts until late June or early July, but customers are encouraged to pick as long as berries are available, said Matt Haus, owner.
Haus' also offers pick-your-own red and black raspberries, which begins in late June, just on the heels of strawberry season. Customers are encouraged to call for more information on strawberry- and raspberry-picking season.
Haus' offers several varieties of red and black raspberries, all of which are compatible for baking, cooking and freezing. While red and black raspberries differ mainly in color, black raspberries typically have a milder, less tart flavor than red raspberries, Haus said.
Haus' blueberry season, meanwhile, begins in mid-to-late July and lasts through September. Fresh blueberries will be available for store purchase during those times. Blackberries also will be available for store purchase in August.
Aside from being a fun summer activity, Haus said, pick-your-own offers several advantages. Berry picking is great exercise, and customers have direct control to select the berries that they want. Pick-your-own prices are also often cheaper than prepackaged prices.
Haus encourages berry pickers to pick in the early morning for the best selection of firm, quality berries. Berry pickers should also dress appropriately, wearing sunscreen, a hat and cool, light-colored protective clothing.
Molnar Farms at 3115 E. Western Reserve Road in Poland also offers pick-your-own strawberries through the end of June. Customers are invited to pick from 7:30 a.m. to 5 p.m. Mondays through Saturdays.
Megan Molnar, Molnar employee, said pick-your-own strawberries is a popular annual event, especially since pick-your-own prices are less expensive.
Strawberry Jam
4 cups sugar
2 cups crushed ripe strawberries (about 2 pints)
3'Ñ4 cup water
1 box powdered fruit pectin
Add sugar to crushed strawberries in a large bowl; mix well and set aside. Combine the water and pectin in a small saucepan; blend well. Bring to boiling and boil 1 minute, stirring constantly. Stir into sweetened strawberries. Continue stirring about 3 minutes. (There will be some sugar crystals remaining.) Quickly ladel jam into jars and cover with tight-fitting lids. Let stand until "set." If used within 2-3 weeks, store in refrigerator; if kept longer, store in the freezer.
Makes five (1'Ñ2-pint) jams of jams.
Source: www.cooks.com
Raspberry Cheesecake
Crust:
11'Ñ2 cups graham cracker crumbs (10 crackers)
1 tablespoon sugar
6 tablespoons (3'Ñ4 stick) unsalted butter, melted
Filling:
21'Ñ2 pounds cream cheese, at room temperature
11'Ñ2 cups sugar
5 whole extra-large eggs, at room temperature
2 extra-large egg yolks, at room temperature
1'Ñ4 cup sour cream
1 tablespoon grated lemon zest (2 lemons)
11'Ñ2 teaspoons pure vanilla extract
For the topping:
1 cup red jelly (not jam), such as currant, raspberry or strawberry
3 half-pints fresh raspberries
Preheat the oven to 350 degrees. To make the crust, combine the graham crackers, sugar and melted butter until moistened. Pour into a 9-inch springform pan. With your hands, press the crumbs into the bottom of the pan and about 1-inch up the sides. Bake for 8 minutes. Cool to room temperature.
Raise the oven temperature to 450 degrees.
To make the filling, cream the cream cheese and sugar in the bowl of an electric mixer fitted with a paddle attachment on medium-high speed until light and fluffy, about 5 minutes. Reduce the speed of the mixer to medium and add the eggs and egg yolks, two at a time, mixing well. Scrape down the bowl and beater, as necessary. With the mixer on low, add the sour cream, lemon zest, and vanilla. Mix thoroughly and pour into the cooled crust.
Bake for 15 minutes. Turn the oven temperature down to 225 degrees and bake for another 1 hour and 15 minutes. Turn the oven off and open the door wide. The cake will not be completely set in the center. Allow the cake to sit in the oven with the door open for 30 minutes. Take the cake out of the oven and allow it to sit at room temperature for 2 to 3 more hours, until completely cooled. Wrap and refrigerate overnight.
Remove the cake from the springform pan by carefully running a hot knife around the outside of the cake. Leave the cake on the bottom of the springform pan for serving.
To make the topping, melt the jelly in a small pan over low heat. In a bowl, toss the raspberries and the warm jelly gently until well mixed. Arrange the berries on top of the cake. Refrigerate until ready to serve.
www.foodnetworkcom
Triple Berry Crisp
11'Ñ2 cups fresh blackberries
11'Ñ2 cups fresh raspberries
11'Ñ2 cups fresh blueberries
4 tablespoons white sugar
2 cups all-purpose flour
2 cup rolled oats
11'Ñ2 cup packed brown sugar
1 teaspoon ground cinnamon
1'Ñ2 teaspoon ground nutmeg
11'Ñ2 cups butter
Preheat oven to 350 degrees. In a large bowl, gently toss together blackberries, raspberries, blueberries and white sugar; set aside. In a separate large bowl, combine flour, oats, brown sugar, cinnamon and nutmeg. Cut in butter until crumbly. Press half of mixture in the bottom of a 9x13-inch pan. Cover with berries. Sprinkle remaining crumble mixture over the berries.
Bake in the preheated oven for 30 to 40 minutes or until fruit is bubbly and topping is golden brown.
Source: www.allrecipes.com