City makes constructive use of deconstruction program
Deconstruction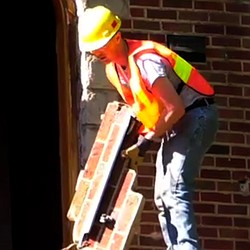 Video
The City of Youngstown is trying deconstruction instead of demolition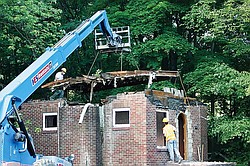 Photo
Paul Hutchison directs the ceiling as it is removed from the Brentwood house to be taken a part and reused as part of the deconstruction process.
This process allows the reuse of building materials.
YOUNGSTOWN — A long-abandoned house on the city's South Side is being "deconstructed" instead of just demolished.
Forgoing the traditional wrecking ball, deconstruction is used to systematically take apart a dilapidated house by removing portions of the structure — such as entire wooden floors, copper piping or chunks of bricks — that can be salvaged and then sold, said William D'Avignon, the city's community development agency director.
The city hired US Green Building Materials, a Youngstown company, for $4,400 to deconstruct the 71-year-old, long-vacant house at 945 Brentwood Ave. on the city's South Side in the Idora Neighborhood off Glenwood Avenue.
Using the deconstruction method is $2,000 more expensive for the city because of the additional time and care needed to take down the house compared to demolition, D'Avignon said. A typical demolition job takes one day. Deconstruction takes three to seven days.
US Green Building Materials will keep the materials from the Brentwood Avenue house and sell them.
This project and a North Side house to be taken down next month are tests for the city to determine how much money contractors can make using this process, D'Avignon said.
If selling salvaged material proves to be profitable for contractors, the city would pay the companies less money for future projects, he said.
This process won't be used often because it "doesn't make sense in most cases," he said. That's because most items of value in many of the houses that the city demolishes have already been stolen.
Deconstruction is "another tool for us," said Mayor Jay Williams. "Demolition will be the first option. This would be of some help if used appropriately."
The city received a $39,000 grant from the federal Environmental Protection Agency to deconstruct other houses. That work would begin in September.
By then, the city will have a better grasp on what it should pay to deconstruct a house, D'Avignon said, because it is monitoring the resell price of the building materials from the Brentwood house and will do the same with the North Side house coming down through the same process next month.
Jim London, president of the Idora Neighborhood Association, praised the deconstruction process.
"It's a wonderful project because not only does it get a blighted building down, but it reduces what is sent to landfills," he said. "Also, I own an old house and have trouble finding items like hinges and door locks. Now, I can buy those items from a house that used to be in the neighborhood."
The 1,460-square-foot house at 945 Brentwood Ave. is next to another abandoned house with the gutter falling off the structure and an occupied house on the other side.
Tyrone Brown, who lived across the street for 30 years, doesn't have much to say about deconstruction but is pleased that the Brentwood house is finally coming down.
He is concerned about 956 Brentwood, next to his house, that's been vacant for a couple of years.
Kids are hanging out inside the empty building that had its door and fireplace recently stolen, Brown said.
There are 16 vacant houses on Brentwood between Glenwood Avenue and Volney Road, he said. The empty houses easily outnumber the vacant ones on that stretch of road, he said.
This is the first house on that stretch of Brentwood to come down since he's lived there, Brown said.
Tony Brucoli, director of US Green Building Materials, established the company in February to focus on deconstructing houses. The company will deconstruct a house on Porter Street N.E. in Warren next week.
"I want to do something that has a positive effect on the Mahoning Valley," Brucoli said. "We feel we can help the area, put people to work, get rid of urban blight, help the environment and hopefully make some money."
D'Avignon and Brucoli said they didn't know how much money could be made from selling the materials on the Brentwood house.
"We'll try to resell as much as possible," he said. "We'll sell bricks for 25 cents a piece, wood for 50 cents or a dollar per board on a good day."
Overseeing the house deconstruction is David Bennink, owner of RE-USE Consulting, a Bellingham, Wash., firm that specializes in this field.
"I'm training the work crew how to do this," he said. "If we can keep the cost down, it has so many positives."
Those positives include reusing quality materials and diverting items from landfills, Bennink said.
skolnick@vindy.com