Derby racers leave their jitters behind
Youngstown Area Soap Box Derby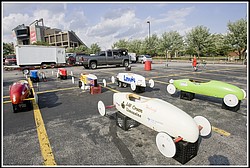 Gallery
6.20.2009 The 2009 Greater Youngstown Area Soap Box Derby along 5th Avenue on Saturday afternoon.
By Sean Barron
The 91-year-old winner of the area's first derby in 1934 visited with those in attendance.
YOUNGSTOWN — It's fair to say that part of Lia L. Brammer's day was going downhill fast, though you would be hard-pressed to hear her complain.
"I was very nervous; it was scary," said Lia, 9, after taking a practice run in her vehicle during Saturday's 2009 Greater Youngstown Area Soap Box Derby. "I didn't know what to expect."
Lia, a Struthers Elementary School fourth-grader, saw her fear quickly transform itself into excitement after donning a helmet, jumping into her vehicle and thrusting herself into the actual competition, which took her down a hill on Fifth Avenue at the YSU campus near downtown.
She was one of 34 racers age 8 to 17 who participated in the derby, which got under way several hours after the 9 a.m. start time was postponed because of heavy rains.
Taking part in next year's event at the next level is a goal for Lia, who came with her parents, James and Rikki Brammer.
The experience was akin to riding a roller coaster for 8-year-old rookie racer Lacey Neri of Niles, who came with her mother, Angel Neri, and uncle Brett Miller.
"It scared me a little," the Seaborn Elementary School student said, adding that she was influenced to be in the event partly because her mother and uncle had once raced.
A two-block, 850-foot section of Fifth Avenue adjacent to Youngstown State University resembled a speedway, with orange cones defining lanes for the novice, intermediate and advanced derby racers, as well as orange netting that separated the road from spectators.
Participants were divided into the Stock, Super Stock and Masters divisions, with 16, 12 and six youngsters, respectively. Final race times were based on a double-elimination process, and a driver who won in one division could not compete again in that division, organizers said.
Winners in each division were to be qualified to take part in the All-American Soap Box Derby championships July 25 in Akron.
The main objective of the Stock category was to provide a simple car for the younger, first-time racer, noted Dennis Tomory, a Greater Youngstown Soap Box Derby board member. The kids and their parents assemble these cars, which gives youngsters a chance to learn mechanical skills, he said, adding that the combined weight limit is 200 pounds.
Most Super Stock drivers have outgrown the Stock cars, and can have a combined weight up to 230 pounds. The Masters represents the highest level of technical challenge in car construction, where racers 10 and older can sit in reclining positions and have a combined 255-pound weight limit, Tomory explained.
As competitive as the Soap Box Derby may be, it's also intended to be family-friendly, he noted.
"It's a family-oriented thing," Tomory continued. "A lot of families live for this thing."
Before the competition started, people got an opportunity to speak with 91-year-old John A. Fraser, who won the area's first Soap Box Derby in 1934.
Fraser vividly remembered going about 40 mph down "a big long hill" on Gypsy Lane between Elm Street and Logan Avenue in a car he had gotten from a junkyard. He had the vehicle rebuilt before the event and faced about 60 competitors in the derby, which was sponsored by the Youngstown Telegram newspaper, an early competitor of The Vindicator, Fraser recalled.
"I was 15 at the time," he said. "It was all new to everybody."
A HISTORY
k1934: The first race was on the city's North Side close to Forum Health Northside Medical Center and featured about 100 participants, including John A. Fraser, who won the $50 first-place prize. At age 91, Fraser is the last living champion from that year's All-American.
k1936: Twelve-year-old Bobby Harris, vying for his second-consecutive win, tied his older brother, Harry. Bobby demanded another race and edged his 15-year-old brother in a runoff.
k1960: The derby returned to the area after a 24-year hiatus, with the local Jaycees acting as sponsor. It took place on Leffingwell Road in Canfield.
k1965: Resumed after a five-year absence, this time on Mahoning Avenue between Belle Vista and Schenley avenues. About 10,000 people lined Mahoning Avenue to root for 61 boys. The event continued each year until 1972.
k1972: Safety concerns prompted new rules and regulations such as moving the vehicle's steering shaft under the cowl of the body. Even though girls were now allowed to enter, none did, so that year's race had 64 boys. In January 1973, the Youngstown Jaycees announced an end to the derby because of a lack of financial support.
k2000: A 28-year absence ends, thanks largely to a local Kiwanis club and firefighters union. The Stock, Super Stock and Masters divisions are created, and Fifth Avenue near Youngstown State University is selected as the site, where the derby continues today.
k2004: The June 26 race is dedicated to Fraser in recognition of the 70th anniversary of the first Youngstown Soap Box Derby. Fraser entertained fans by driving his oil-can racer down the Fifth Avenue hill.
k2006: The event was dedicated to Gary Thompson in recognition of the 40th anniversary of the 1966 derby, which he won with a time of 29.72 seconds.
Source: Greater Youngstown Area Soap Box Derby
p>2009 DERBY
Top finishers
Thirty-four youngsters age 8 to 17 took part in Saturday's competition, which was broken into the Stock, Super Stock and Masters divisions. Those with the best finishes:
kSTOCK
1st place: Melody Castner, 8, of Hubbard, rookie. Won by 0.045 seconds.
2nd: Brandon Krohn, 9, Austintown. Raced two years.
3rd: Justin Calco, 10, Boardman, rookie.
kSUPER STOCK
1st: Haleigh Kuebler, 15, Berlin Center, raced five years. Won by 0.059 seconds.
2nd: Victoria Kuhaneck, 16, Damascus, eight years. Came in second by 0.010 seconds.
3rd: Jack Sebest, 11, Campbell, four years.
kMASTERS
1st: Julia Castner, 13, Hubbard, three years. Won by 0.006 seconds.
2nd: McKenzie Shaffer, 15, Mineral Ridge, six years.
3rd: Daisy Corso, 14, Boardman, four years. Julia beat her by 0.089 seconds.
Source: Rochelle Romeo, Soap Box Derby board secretary
More like this from vindy.com