Struthers grads admonished to take nothing for granted
Struthers Commencement 2009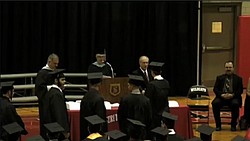 Video
Take the time to enjoy the simple things in life, the principal advised.
STRUTHERS — During her final moments with Struthers High School seniors, Principal Mary Ann Meadows reminded the Class of 2009 to "take nothing and no one for granted."
Speaking to the 174 graduating seniors and their friends and family members Sunday afternoon, Meadows testified to the importance of helping others, learning to enjoy life and forgiving themselves as well as others.
"Tell the people you care about that you love them. Take time to enjoy the simple things in life. Go for a walk ... hold a puppy ... look up at the night sky ... never pass up a chance to watch the sunset or the sunrise," Meadows said.
Class President Madison Morell reminded peers that they are each leaving their footprints behind. Although life may take them in different directions, together they will always be the Struthers graduating class of 2009, she said.
Co-valedictorians Candace Campana, Kyla Davis, M. Desir'ee Evanson, Elizabeth John and Hannah Lordi also addressed graduates.
"Struthers [High School] has taught us to run after our dreams," Campana said. "Where do you want your song to be heard? Think about that, and let it flow."
Davis invoked the adage "Time flies when you are having fun" and thanked her classmates for making time fly during high school.
Evanson reassured classmates.
"Without our trials and struggles, this day would lack meaning," she said. "This is an exciting and scary time. [But] whatever the future may hold, remember, it will be all right."
John acknowledged that with everything they learned in high school, the classmates never learned how to say goodbye.
"It's one of those lessons we're suppose to learn ourselves, together, right here, as one," she said.
And Lordi encouraged her peers not to regret the past or worry about the future, but to live for the present.
"Nothing will ever be the same after this day," she said. "Know your dreams. Don't let anybody tell you [that] you are not good enough. We are all good enough. Live your life."
Some 1,200 relatives and friends filled Struthers Memorial Fieldhouse to enjoy the ceremony. Along with the names of each graduate, the audience was reminded of what set the 2009 class apart from other classes. For example, the students worked together to raise money to buy the city's K-9 patrol dog a bulletproof vest and also helped establish a recycling program.
Of the 174 graduates, 44 have been awarded scholarships. Thirty of them graduated with honors and 34 are members of the National Honor Society.
"Here you are at the end of 12 years of school, about to begin the next phase of your lives," Meadows said as the ceremony began.
"As the sun sets on your high-school career and the sun rises on your future, remember today is the first day of the rest of your lives ... be good to yourselves."
---
Struthers Class of 2009
Graduates: 174
Class President: Madison Morell
Salutatorian: Gabrielle Colucci
Valedictorians: Candace Campana, Kyla Davis, M. Desir'ee Evanson, Elizabeth John and Hannah Lordi
Honors graduates: 30
National Honor Society members: 34
Colors: Red, white and black
Source: School officials