Perseverance pays off for Canfield graduate
Canfield Class of 2009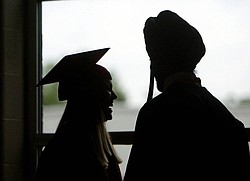 Gallery
Struggle is inevitable but can be overcome through faith, the guest speaker said.
VINDICATOR CORRESPONDENT
CANFIELD — It's been a long road for area seniors Justin Sopkovich and Jared Ausnehmer, two friends who are celebrating milestones this month despite early setbacks.
The two boys were born in 1990 a few months apart, within miles of each other, each with a hypoplastic left ventricle. Both received an outpouring of support from the community and local media which led to a national appeal to find new hearts for the boys.
Justin, who graduated Sunday from Canfield High School, received a new heart March 20, 1990 at three weeks old. Jared, 19, the son of David and Patty Ausnehmer of North Lima, will graduate Saturday from South Range High School and was on the list for a new heart when doctors were able to repair his. The two boys have stayed close over the years, play baseball together at Field of Dreams in Boardman and plan to attend each other's graduation parties.
Justin, 19, a son of Dennis and Paula Sopkovich, was born a month premature in Youngstown and spent six months preparing for and recovering from transplant surgery at Pittsburgh Children's Hospital.
He's endured at least a dozen surgeries and developed a blood disorder from his anti-rejection medication, his dad said. Two years ago, he was rushed to the hospital where he went into cardiac arrest twice and doctors discovered his lungs were bleeding.
Though he's had a few setbacks in life, father and son agree that many prayers and miracles brought them to this graduation day.
"This is a big accomplishment for him and we're real proud," his dad said. "Justin's a hard worker."
The self-described sports fanatic wants to study hospitality and computers. He has worked in the cafeteria for the school district and plans to continue in some capacity while attending school.
"I'm so excited for Justin," Paula Sopkovich said after Sunday's ceremony. "He's had a lot to overcome."
The commencement's guest speaker was Chuck Eddy, co-owner of Bob and Chuck Eddy Chrysler Dodge Jeep in Austintown.
Eddy, who presented his son Robert with a diploma, urged graduates to maintain their reputations and work ethic.
"You want to earn people's trust and confidence in you," he said.
He warned the future is full of uncertainty when it comes to the local community, economy, nation and world, explaining that struggle is inevitable. He went on to ask rhetorically who would have thought just a few years ago when "we felt the rumbles of a tough economy" that Chrysler and General Motors would both go through bankruptcy.
"You do not know what tomorrow holds," he said, but told students it's important to "have faith in something" to comfort and carry them through turbulent times.
Superintendent Dante J. Zambrini commended Principal Dr. Abby H. Barone for dedicating 35 years to the district as a teacher, advisor, assistant principal and principal. Barone, who is retiring this year, received a standing ovation.
Zambrini congratulated the class and said more than $5.2 million in scholarships have been awarded to students this year.
Valedictorians are Mae LaPresta, Anthony Massaro Jr., Joseph Miladore and Aneesh Rai. Rai told fellow graduates that attending Canfield schools gave them the knowledge, character and leadership skills to succeed and that it was everyone's responsibility to share those gifts with the world.
Joseph Miladore is the third son of Dr. Michael J. Miladore and Dr. Dianne Bitonte Miladore to graduate as valedictorian at Canfield. Sons Michael and Nicholas were so honored in 2004 and 2006, respectively. Joseph Miladore has been accepted into the six-year BS/MD program offered by Youngstown State University and the Northeastern Ohio Universities College of Medicine.
He challenged graduates to reflect on the past four years and to think about who they were when they started high school and who they are now.
---
Canfield Class of 2009
Number graduating: 263
Class colors: Electric blue and lime green
Class song: "Live Your Life" by T.I. and Rihanna
Class motto: "Tomorrow is the most important thing in life. It comes into us at midnight very clean. It's perfect when it arrives and it puts itself in our hands. It hopes we've learned something from yesterday." – John Wayne
Source: School officials