Fixing Wick: The revitalization plan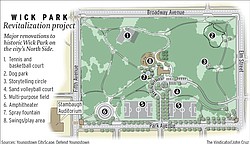 Photo
Wick Park Revitalization project
Efforts are under way to raise money for an upgrade to the
North Side park.
By DAVID SKOLNICK
CITY HALL REPORTER
The vision is a $2.9 million
park with an amphitheater, sports fields, a playground accessible to special-needs children, a spray fountain and improved lighting.
The challenge for those wanting to revitalize Wick Park on the Youngstown's North Side is to find the money for the work.
Those involved with the park rehabilitation project say they are starting a local campaign to raise money from foundations and individuals for the projects.
Also, they are negotiating with a lobbying firm that would help secure state and federal funding for the park; U.S. Rep. Tim Ryan of Niles, D-17th, who represents Youngstown in Congress, submitted requests on the park's behalf to receive federal dollars. The project organizers plan to seek money from the city.
"Funding is a slow process, but we want to get the ball rolling," said Phil Kidd, who lives near Wick Park and is helping to organize the park rehabilitation project. "It will be an ongoing process. We want to accomplish goals over a period of time. The work will be done in phases."
For Kidd, the top priority for the park is improved lighting.
That also can be done in phases.
The rehabilitation project's analysis estimates the cost of 29 new light fixtures on pedestrian paths at the park at $130,500, 10 new fixtures in parking areas at $40,000.Renovating 23 other lights would cost $57,500 while conduit upgrades would cost $72,000.
The 34-acre North Side park is bounded by Park, Fifth and Broadway avenues and Elm Street. It is near Stambaugh Auditorium and the Park Vista Retirement Community and is just north of Youngstown State University.
Last year, Youngstown CityScape and Defend Youngstown, two local organizations, organized three public meetings to find out what residents near the park want to see there. There was also an online survey at www.wickparkproject.info — a Web site devoted to the project.
The Cleveland Urban Design Collaborative and McKnight Associates, both of Cleveland, produced a design of the proposed changes and developed a cost estimate.
There has been some improvement work done to the park during the last year, most notably planting trees along Park Avenue and a recent cleanup effort, said Sharon Letson, CityScape's executive director.
"Even in its current condition, the park is a jewel of the city," she said. "The success of this project is based on the neighborhood's involvement, and there's been a lot of interest."
If the Wick Park rehabilitation project is successful, it can be used as a model to improve other parks in the city, Letson said.
skolnick@vindy.com
THE COSTS
The proposed rehabilitation of Wick Park on Youngstown's North Side comes with a $2,885,000 price tag. Here is a breakdown of the preliminary cost analysis.
XAmphitheater: $125,000.
XSpray fountain: $250,000.
XA playground that is also accessible to special-needs children: $250,000.
XDog park: $35,000.
XTennis/basketball courts rehabilitation: $120,000.
XTree work, including pruning, thinning and planting: $120,000.
XTrail and path restoration and renovation: $320,000.
XNew entry drives and parking: $175,000.
XPavilion improvements: $100,000.
XSports fields: $200,000.
XLandscaping improvements by Park Avenue: $125,000.
XLighting: $320,000.
XGateway enhancements: $255,000.
XSite furnishings, including 30 benches, 20 garbage cans, and 20 picnic/chess tables: $75,000.
XA 10-percent contingency: $245,000.
XDesign and engineering fees: $160,000.
Source: Wick Park Revitalization Project organizers
WICK PARK TOUR
Join members of the Mahoning Valley Historical Society for a Walk in Wick Park from 4:30 to 6:30 p.m. today.
Those participating are asked to meet at First Unitarian Universalist Church, 1105 Elm St., to begin the of the park.
Participants will hear tales about some of the most affluent families in the city during the era of industrialization, their estates and the cultural institutions that surround the park.
Stay afterward for light refreshments and view the final design plans for the Wick Park Revitalization Project.
million-dollar effort to update and improve the North Side park. For more information, contact the historical society at (330) 743-2589. The event is co-sponsored by Youngstown CityScape.