WFMJ-TV news anchor to 75 McDonald grads: We've left you a mess
McDonald Commencement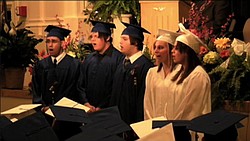 Video
MCDONALD — The McDonald High School Class of 2009 expressed an awareness of the challenges each graduate will face now that the diplomas have been presented and the blue and white caps have been tossed.
During their commencement on Sunday, the 75 graduating seniors listened as Bob Black, anchor and assistant news director for WFMJ, admitted that we don't live in the kind of world he envisioned 43 years ago — when he was sitting at his own high school graduation.
To go a step further, Black said his generation has left a mess to the class of 2009.
"The economy is in the worst shape it's been in since the 1930s," he said. "People are losing their jobs and losing their homes to foreclosures ... there are new illnesses ...."
Even so, the theme of the day wasn't despair, but the importance of working hard and applying to adult life the lessons learned in kindergarten.
Black told the members of the class that it's love and kindness — not more schooling — that they need to make this world a better place.
"Take risks," he continued. "Leave the city of comfort and go into the wilderness on intuition ... not by a bus but by hard work."
Ryan Williams, a class valedictorian and National Honor Society member, advised his fellow graduates to shut out the negative voices around them and do what what they really want to do in life. He reminded the class that no one will care what grades they had in high school or what activities they pursued.
"What matters now are the choices we make from here on out ... all of our dreams can come true if we have the courage and perseverance to pursue them,"
Some 600 relatives and friends packed into the auditorium to witness the presentation of the diplomas. At least 20 graduates are the recipients of close to $400,000 in college scholarships. Among other accomplishments, one graduate earned a perfect score on the ACT national college and placement exam. Another graduate has been accepted into the U.S. Naval Academy.
Co-valedictorian and National Honor Society member Amanda Sacco applauded the accomplishments of all of her classmates and offered them some advice. She told them to set high standards for themselves.
"Reach for the moon ... even if you miss, you'll still be among the stars," she said.
She encouraged her peers to have good attitudes, be good listeners, choose occupations they will enjoy and to never be discouraged.
Black advised the graduates to live their lives, not to let their lives happen.
"Twenty years from now you'll be more disappointed by the things you didn't do than what you did do," he said. "It is easy to exist instead of living. Do what you elieve is great work ... fight the fear of failing ... don't let fear or failures define who you are. The greatest fail ure is not to try. Keep your dreams alive.
"Don't let the world beat you down."
McDonald Class of 2009
Graduates: 75
Valedictorians: 6 - Robert DeVita, Callie Garland, Amanda Sacco, Mitchell Thornton, Adam Tura, Ryan Williams
President: William Lowry
Song: "100 Years" by Five For Fighting
Colors: Metallic Silver & Navy Blue
Flower: White Rose