Speaker: Connect with others
Mineral Ridge 2009 Commencement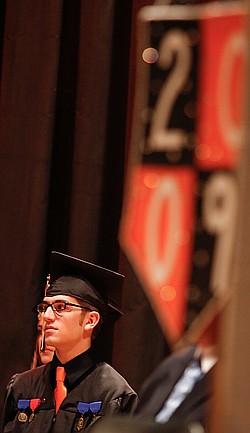 Gallery
By Bob Jackson
Thirty-one of the graduates have been awarded scholarships worth more than $1 million.
MINERAL RIDGE — Stay connected.
No matter where you go, no matter what you do, stay connected.
That was the advice given to the 2009 graduating class of Mineral Ridge High School by Principal Lew Lowery, who addressed them during commencement ceremonies Sunday afternoon in the high school auditorium.
"We're social beings," Lowery said. "We're connected in ways that we cannot imagine. We are all connected despite our differences."
He illustrated the importance of maintaining human connection by telling of his sister, who committed suicide 24 years ago. He said it's a painful story that he rarely discusses publicly but felt was important as he ushered the graduates out of high school and into the beginning of their adult lives.
"Human beings are connected. It's in our nature to help one another," Lowery said. "At some point in her life, my sister lost her sense of connectivity."
He urged the graduates to always maintain connection with people, no matter what their circumstance or station in life.
"If you feel hopeless, try to communicate with a family member," he said. And if that is unsuccessful, continue reaching out to friends, to acquaintances and even strangers if necessary.
"There is always someone willing to help," he said.
Lowery's remarks were part of a 90-minute ceremony that teemed with tears and tissues. All graduates wore black gowns and caps with gold tassels. Carol Mogulich, guidance counselor, said 31 students received a total of more than $1 million in scholarship money to continue their educations, whether in college or the military.
Mike Day, 17, is headed to the Ohio National Guard and said the volatile state of world affairs doesn't concern him.
"I hope I do" see combat, he said. "I'll be ready."
Day said he intends to make a career of the military.
His friend, 18-year-old Sean Dodrill, is off to Youngstown State University in the fall, where he'll study history with plans to become a history teacher.
"I'm good at it. It's my best subject," he said.
And though the flagging national economy and declining job market should not impact Day, Dodrill said he hopes things pick up by the time he's ready to enter the work force.
"I guess it worries me a little," he said. "But I'm not stressing over it."
Brooke Brdek, 18, didn't hesitate when asked her favorite memory of going to school at Mineral Ridge.
"Lunch," she said, laughing. "We just had a blast every day. We laughed and just had a good time."
After some vacationing this summer, Brdek said she will study zoology at Kent State University in the fall. A job working at a zoo would be great if it happens, she said, but she would love to take her studies abroad, possibly to Africa.
"I'm really interested in the big cats," she said.
Thomas Simone, 18, will study music education at the University of Akron in the fall.
A tuba player in the high school band, Simone said he is also taking piano lessons and one day hopes to become a band instructor at the high-school or middle-school level. He will play in the YSU Community Band this summer.
"Going to school here was nice because it's a small school, and I always knew what to expect," Simone said. "A small school is comfortable, and I'm going to miss that. I'm going to miss my friends, too. But I'm excited, and I'm ready to move on."
In her salutatorian address, Miranda Monroe challenged her classmates to aim high, even if their goal seems out of reach.
"Taking on more than you can handle sometimes makes you stronger," she said. "I hope you sometimes take a chance and bite off more than you can chew."
Valedictorian Steven Joseph Mulichak encouraged the graduates to always maintain their individuality.
"We are not a class of everyday people. We are a class of individuals," Mulichak said during his sometimes-humorous remarks. "There are no followers or ankle-biters, just leaders and example-setters."
Mineral Ridge Class of 2009
Graduates: 63
Honors graduates: 14
Class motto: "Our lives are before us, our pasts are behind us, but our memories are forever with us."
Class colors: Orange and black.
Class flower: Tiger lily
Fast fact: There were four sets of siblings in the Class of 2009: Ashley and Brandon Batcho; Albert and Kelly Collins; Lisa Kay and Michelle Crutchley; and Dana and Debra Jo Danadic.