Library announces cutbacks in services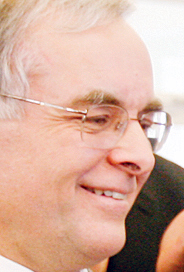 Photo
The public will lose 113 hours a week of library service in September.
AUSTINTOWN — A 15 percent cut in Public Library of Youngstown and Mahoning County hours will begin Sept. 8 and will be followed by a 14 percent additional cut in hours if the library system doesn't eventually pass a 1.7-mill levy, its director said.
That announcement came Thursday in a presentation by Carlton Sears, library director, to the board of trustees.
The 15 percent cut, which the board unanimously endorsed, translates to 113 hours a week of library service that will be lost beginning Sept. 8 at the main library and 13 of its 15 branches.
"We have to right-size our operations because of state funding cuts," Sears said.
The library system's financial predicament was brought on by a $1.8 million annual loss of state funding between 2001 and 2008. This year's loss consists of $1,566,579 in state funds and $135,000 in interest income, for a total of $1,701,579. State revenue is projected to drop an additional $684,000 next year, he said.
Currently, the libraries are collectively open 740.5 hours per week, down slightly from 761.5 hours a week prior to a May 2009 cutback.
Main library will lose its evening hours Wednesdays and Thursdays. Thirteen branches will each lose one day a week of library service. The only branches that won't be affected will be Lake Milton and North Jackson, each being open only 24 hours a week.
The cutbacks in hours are expected to result in the elimination of nine full-time and 12 part-time positions, and the reduction of four positions from fulltime to parttime, but discussions with the librarians' and clerks' unions may reduce the number of eliminated positions, Sears said.
Janet Loew, library communications and public-relations director, said some layoffs appear to be unavoidable, but the exact number of furloughs will be determined based on discussions with the unions.
The library system has about 190 employees, about two-thirds of them fulltime and one-third part-time, said Ruth Bradshaw, human resources director.
If a 1.7-mill levy, consisting of a 1-mill replacement and .7 additional mills, which the library board favors as a five-year measure, doesn't pass, an additional 88 hours a week of library service will be lost, Sears told the board. If that levy passes, Sears said the September service reductions may be partially restored in 2010.
"What was a solvent, viable, high-quality library system is now in jeopardy," Thomas Shipka, a library board member, told the county commissioners in a meeting earlier Thursday. State funding is expected to continue to decline, while library use is growing "exponentially," Shipka said, noting the 34 percent rise in patronage this year.
With Mahoning County Commissioner John A. McNally IV on vacation, Commissioner David N. Ludt said the commissioners would likely decide in their meeting at 10 a.m. Thursday what type of library levy to put on the ballot.
"We'll definitely come to a decision to put something on Nov. 3," said Commissioner Anthony T. Traficanti, who didn't specify whether it would be a renewal, a replacement or an additional library levy, or some combination thereof.
Ludt said he leans toward placing the library's 1-mill levy on the Nov. 3 ballot for renewal and putting any additional library levy on the ballot at a later date, perhaps in May 2010.
"If you put the renewal on, it has a better chance of passing" in the current troubled economy than a measure containing additional library millage, Ludt added.
This year, the library system has reduced expenses by cutting wages for all staff, laying off 10 part-time shelvers in mid-July, renegotiating its natural-gas contract, deferring window cleaning and parking-lot paving, and reducing library materials purchases.
The cuts will result in 1,500 fewer hours of Internet access weekly, longer waiting times for service, fewer business hours for library cafes and fewer hours of community meeting room availability, Sears said.
milliken@vindy.com