Defense bill has $2M for YSU work on lightweight body armor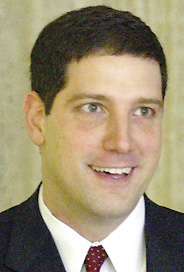 Photo
U.S. Rep. Tim Ryan of Niles
The project will help develop a viable lightweight, cost-efficient, integrated armor plate for soldiers, Ryan said.
By Harold Gwin
YOUNGSTOWN — Youngstown State University and two industrial partners are in line to get a $2 million federal-defense research grant.
The money is part of $16 million secured by U.S. Rep. Tim Ryan of Niles, D-17th, for what he termed "cutting edge" research in the defense-appropriations spending bill just passed by the House. Ryan is a member of the House Appropriations Committee.
The funding will help develop the next generation of manufacturing techniques in Northeast Ohio, he said.
The money earmarked for YSU, Fireline TCON Inc. and Iten Industries will be used to develop a new lightweight body armor for military applications.
It's really a continuation of an ongoing project between the two companies and YSU's Chemistry Department, said Martin Abraham, dean of the university's College of Science, Technology, Engineering and Mathematics.
Ryan said the project will help develop a viable lightweight, cost-efficient, integrated armor plate for soldiers in the field.
Abraham said the material to be used has been developed by YSU and the two companies. It's a metal-ceramic composite that is lighter yet stronger than steel. Right now, it's also more expensive than steel, he said.
The material can be readily formed into shapes, and the project is at the point where specific applications for its use can be developed, Abraham said.
This application involves devising a way to use it in body-armor protection, particularly around the neck, he said.
The Youngstown area could also see some of another $2 million earmark in the bill designed to develop monitoring of terrorist threats through the use of market-tested financial-intelligence gathering, relationship discovery and supply-chain monitoring processes to track terrorism financing.
That money is to go to Revere Data, a California company that recently decided to move some of its operations to Youngstown, Ryan said.
The money isn't available yet.
The Senate has to approve its own defense-appropriations bill, and the House and Senate versions have to be molded into one bill that both bodies can approve before it is sent to the president for his signature.
Ryan said the funding will help make the region "a world leader in advanced manufacturing and developing products that keep our soldiers safe in the field."
The projects funded in the bill have the potential to spin off civilian applications, energy generation and green-collar jobs, he said.