Peace Race Tips: Put your best foot forward
Peace Race Training Tip #1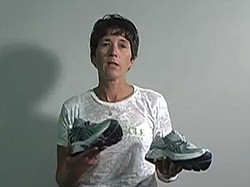 Video
Peace Race president Jenn Wohlgamuth gives a training tip for runners.
Week 1:
Put Your Best Foot Forward
The best way to start any training program is to have the proper footwear. The sole of the foot is the base of your bodies strength. Take care to have the proper fitting shoes and your feet will take care of you. Do you pronate or supinate? Maybe you are neutral. Do you need the most expensive shoe on the shelf? Most likely not. Do you need to be properly sized and analyzed? Absolutely! The best thing that you can do for yourself during this week is to stop in at Second Sole and let their staff "size you up". They can make sure that you are in the proper shoes so that you can put your best foot forward.