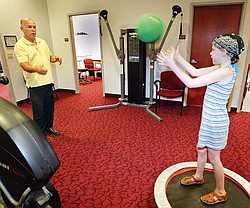 Photo
Anna Kate "Annie" Harley of Girard, who experienced a spontaneous brain bleed May 29, now is in physical, speech and occupational therapy after brain surgery on May 30. Here, Chuck Fagan, physical therapy assistant at Atlas Rehab and Wellness in Liberty, works with the 8-year-old on her coordination by tossing her a ball as she stands on a small trampoline.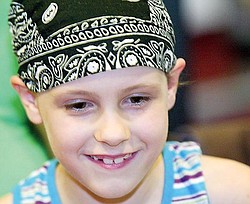 Photo
Below, Annie Harley likes to wears a bandana because her hair is still growing back after brain surgery.
By LINDA M. LINONIS
Vindicator Staff Writer
GIRARD — Laurie and James Harley heard some intimidating medical terms when their oldest child was hospitalized with a spontaneous brain bleed.
But nothing was as chilling as the question — "Am I going to die?" — asked by their 8-year-old daughter, Annie, during the medical crisis.
The medical emergency occurred May 29. In its aftermath, Anna Kate, known as Annie by family and friends, now goes for physical, speech and occupational therapy.
Laurie and James Harley recalled the early Friday evening when the ordeal began.
"Annie said she had the worst headache of her life," her mother said. "Then she was lying on the bed, holding her head and crying."
Her father put his daughter in the family's van and drove a block to Girard Fire Station on East Liberty Street from their home on East Main Street. James Harley said he remembered reading about a boy with a head injury and the importance of quick treatment.
There, paramedics saw Annie, who was screaming loudly. They thought it best to send her by ambulance to St. Elizabeth Health Center in Youngstown.
When paramedics asked what had happened, they were told Annie was playing on the porch with friends who had tapped each other with a plastic container. Somehow, this information went from plastic container to plastic pipe to lead pipe.
James Harley said the miscommunication worked in his daughter's favor as she was seen immediately in the emergency room. Because medical personnel thought Annie had a trauma, a CAT scan was performed and a clot was revealed.
Arrangements were made for Annie to be flown that night to Children's Hospital in Pittsburgh. James Harley said that choice was made because of stormy weather conditions that would have delayed transport to Akron or Cleveland.
At Children's Hospital, Annie was in intensive care. A drain was put in to relieve the pressure on her brain.
"We could sit with her and we talked to her," Laurie Harley said. And while her mother was holding her hand, Annie squeezed it.
By the next afternoon, May 30, Dr. Elizabeth Tyler-Kabara, a neurosurgeon, was operating on Annie. "She has a C-shaped incision .. about three inches ... on the back of her head," Laurie Harley said.
Doctors originally thought Annie's bleeding was caused by an arteriovenous malformation, when an artery and vein connect without capillaries, she said.
But Laurie Harley said doctors ruled that out and later told the parents that Annie's condition was extremely rare.
As a show of family solidarity because Annie's head was shaved, her mother cut her hair short and her father shaved his head. Everyone's hair is growing back; mother and daughter are wearing matching bandanas.
The Harleys have nothing but praise for the doctors and Children's Hospital. "They kept a good watch on her," Laurie Harley said.
"The doctors were very good about explaining the whole thing," James Harley added.
Annie was hospitalized until June 18. Now, she goes to therapy on Wednesday and Thursday afternoons at Atlas Rehab and Wellness Clinic in Liberty Township.
"There was concern about weakness and motor skills on her right side," James Harley said. In the beginning, Annie needed assistance walking and maintaining her balance, but physical therapy has addressed that.
Laurie Harley said Annie initially had problems with short-term memory loss, vision, coordination and stability.
"Her eyes weren't lining up and she was seeing double and getting headaches," she said. An eye patch helped solve that problem. She said the therapy has "lessened the problems, and she is improving."
At first, Annie had difficulty finding the right words. She called her sister, Allison, 5, "orange," and brother, Tyler, 11⁄2, "hot tot." Hot Tot is a kind of rabbit, Laurie Harley said, and Annie did get a mini-lop rabbit, now named Sasha Lynn, when she came home from the hospital.
The Harleys said Annie will have an MRI in a few months to make sure no other clots have formed. Annie takes an anti-seizure medication and regular Tylenol.
Annie, who is home-schooled, said she "likes to draw." She can play walking tag with friends. Her mother said Annie is keeping a journal to help with her memory.
As for her parents, the Harleys said they've leaned on family, friends and their faith.
"If it hadn't been for our faith, we wouldn't have gotten through this," Laurie Harley said. They attend First Baptist Church in McDonald.
linonis@vindy.com
---
Annie Harley || In cyberspace
Laurie Harley of Girard, mother of 8-year-old Annie, who experienced a spontaneous brain bleed May 29 and is now in therapy, said she communicated with and updated family, friends and the community via the Internet.
Group: Laurie Harley created a group on Facebook "to send just one update and reach anyone who wanted to know more about how Annie was doing." She said some 200 people are now involved. Visit http://groups.to/supportannie.
Fund-raiser: Annie drew a picture of a cat looking at a fishbowl, and Laurie Harley's sister-in-law, Kathy Esposito, is selling it online at Kathys-Cards.com. Proceeds from Annie's card sales and 10 percent of overall card sales benefit the Harley family. Her father, James Harley, is a manager at Cocca's Pizza in Liberty and Laurie Harley is a freelance writer and chief executive officer of Aardvark Writing, a writing and design company.
Other details: In an e-mail that Laurie Harley sent to The Vindicator about her daughter's experience, she wrote: "This has been a very draining experience, mentally, physically and financially. We could not have managed without the help and support of so many people." She also noted that family and friends were very supportive including her sister, Christine Crosby, and neighbor, Amanda Magee, who babysat the younger Harley children.
More like this from vindy.com