Thunderstruck in the park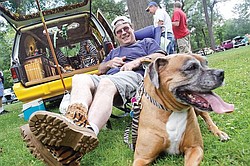 Photo
Frank McKinney of Youngstown with his 9 year old boxer Peg sit in front of his 1994 Dodge Caravan decked out in bamboo and various animal print, for the 15th annual Thunder in the Park presented by the McDonald Fraternal Order of Police, at Woodland Park in McDonald, Sunday July 26, 2009.

Photo
A black Chevy Chevelle is reflected in a 1957 orange Oldsmobile 88 during the 15th annual Thunder in the Park presented by the McDonald Fraternal Order of Police, at Woodland Park in McDonald, Sunday July 26, 2009.
McDonald car show turns heads with style
By VIRGINIA ROSS SHANK
VINDICATOR CORRESPONDENT
It doesn't take a registration card to identify the owner of the bamboo-covered van that makes its way through the area most summer days.
Adorned with leopard, tiger and zebra fabric, Frank McKinney's custom boots match the interior of the 1994 Dodge Caravan he bought about five years ago.
McKinney, of Youngstown, covered his boots with material left over from his bigger project — lining the inside of his ride with animal-print material. Hopping into the van, a passenger could easily get the feeling of jumping onto a safari-themed amusement park ride. There are the animals — stuffed and plastic. Monkeys rest on each door, and a zoo of plastic pets adorn the dashboard. McKinney's traveling partner, a 9-year-old boxer named Peg, easily fits into the act with her zebra leash. McKinney covered the seats, the sides — even a portable radio in the back of the van — with animal print.
"Hey, the world can be a jungle these days, and Peg and I are just trying to fit in," McKinney joked during Sunday's Thunder in the Park car show at Woodland Park in McDonald. The show is presented each year by the McDonald Fraternal Order of Police. Dozens of spectators gathered at the park to inspect McKinney's van and the other 150-plus vehicles at the show, which is in its 15th year.
"The main criteria to be in the show is that you have a car you want to show people," said Diz Dean, show coordinator. "We have all kinds of vehicles, old and new. All owners are welcome here to show what they've got."
Dean said a team of judges inspected all of the registered vehicles and were responsible for picking the top 50 cars at the show. Plaques were given to the owners of those cars and the top-five 2000-and-later models. In addition, three trophies were given to each of the top vehicles chosen by the mayor, police chief and FOP president.
Proceeds from the registration fees — $6 in advance and $8 the day of the show — benefit McDonald FOP Lodge 194.
"The show helps out a lot, and it's a nice one," Dean said. "We get a lot of support from people, and we really appreciate that."
McKinney easily garnered an A-plus for effort and creativity. But he said he realizes that in actuality, "fitting in" is not his strong point. Catching the eyes of passersby is.
Todd Sherrod's 1929 Model A gets its fair share of lookers as well. The Hermitage, Pa., man said he's been rebuilding and restoring vehicles since he put his first go-cart together as a kid. The body of his Model A sat in a garage for years, and the vehicle hadn't been driven on a road since 1957. He bought it about three years ago and had been working on it steady, adding parts, for two years before finishing it in May.
"I've had a lot of cars and been in a lot of shows with them," he said. "But people really notice this car. It looks different than a lot of them and people think it's cool. And it is. I like it. I've put about 1,000 miles on it and had it in several shows, and it's done really good with it."
For folks such as Terry and Margaret Martin of Hubbard, the show isn't about competing or bringing home a plaque or trophy.
"We just like showing our car to people," Terry Martin said. "We like it a lot and are really proud of it. It's nice when people like it and talk to you about it. They appreciate it, and we appreciate that."
The Martins' car, a 1937 Sedan Delivery, gets its share of attention — especially with Yosemite Sam at the steering wheel. Terry Martin said the couple lets the stuffed doll "Sam" claim the driver's seat of their "Outlaw Express" during car shows.
"He gets a lot of attention, too," he said. "People realize he's there, and they stop and look at him and want to look at the car a little closer. It's nice. We enjoy that. We enjoy the people and being part of all of it and telling them about the car. It's a nice place to be."