Archbishop brings call for Arab-Israeli peace to Youngstown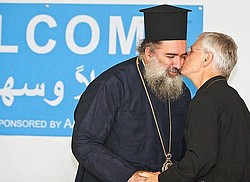 Photo
CALL FOR PEACE: Archbishop Theodosios (Atallah Hanna of Sebastia of the Greek Orthodox Diocese in Palestine, who visited the Arab American Community Center of Greater Youngstown Sunday, is welcomed by Father Dan Rohan of St. Mark Orthodox Church in Youngstown. Hanna said his message of one of hope for peace in the West Bank and Gaza through an end to Israeli occupation there.
The archbishop said he is calling on all Americans to demand an end to Israeli occupation of Palestinian territories.
By Bob Jackson
YOUNGSTOWN - A call for peace and an end to oppression in the Palestinian territories went out Sunday from a world leader in the Palestinian community.
Atallah Hanna, archbishop of Sebastia of the Greek Orthodox Diocese in Palestine, visited the city Sunday with his message of hope for peace in the West Bank and Gaza through an end to Israeli occupation there.
He has also made stops in New York, San Francisco, Arizona and Texas.
"This trip is not a vacation; it is strictly business," said Hanna, who has adopted the name Theodisios.
"We are here to bring attention to the suffering of the people who are residing under occupation. Our job is to protect human rights in Palestine, and in Jerusalem in particular."
Hanna spoke in Arabic, and his remarks were translated into English. He is only the second Palestinian to hold the position of archbishop in the history of the diocese of Sebastia, according to Amer Adi, president of the Arab American Community Center of Greater Youngstown, where Hanna spoke.
Adi said there is a movement afoot, known as Zionism, to drive all Palestinians out of Jerusalem and make it "a pure Jewish state." Hanna's message, being delivered across the United States, is one of unity.
"He is trying to tell everybody that we can all live in peace together," Adi said. "All religions, all races, all colors, can live together in peace as one."
Hanna, who was born in 1965, said only between 1 and 2 percent of the Palestinian Christian population, or about 8,000 people, currently lives in the Palestinian territories. He said the number should be much higher because "we are the indigenous people" to that area.
He said Palestinians' civil rights are being abused under the Zionist movement being implemented by the Israeli government, with some people being forced from their homes.
He said "Israeli propaganda" has blamed Moslem influences for the exodus of Palestinian Christians from the region, but said that's not true. The reason, he said, is the Israeli occupation and the Zionist movement.
"Our message to the American people is very important, so they understand the abuse of human rights under the government led by [Israeli Prime Minister Benjamin] Netanyahu."
Hanna said he is calling on American leaders and citizens to pressure the Israeli government to withdraw from Palestinian areas and end the years of occupation there.
"We would like every free man on this earth to stand up and take the position that this occupation has to end, and that this injustice on this land must end as soon as possible," he said.
He stressed that the fight is not between religions, but is against the Zionist movement, which arose years ago to restore Jews to Israel, ignoring the existing Palestinian population there.
Israel has occupied the West Bank and the Gaza Strip since 1967. Palestinians have demanded since then that Israel withdraw from that area, and the ongoing dispute between the two sides has resulted in years of conflict.
"We have nothing against the Jewish faith," Hanna said. "The struggle in Palestine is not between faiths or religions. It is about people who don't have the right to occupy that land."
And while he called on Palestinian Christians to remain steadfast and strong in their opposition to the Israeli occupation, he ultimately wants to see peace in the region.
"In order to have peace, we must allow all to live in freedom and not allow anyone to live under occupation," he said.