Rep. Ryan discusses coverage concerns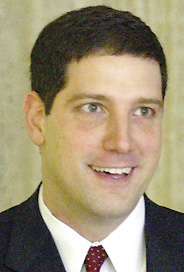 Photo
U.S. Rep. Tim Ryan of Niles
Valley residents share their health-care stories
By JORDAN COHEN
VINDICATOR CORRESPONDENT
NILES — Krista Ventresco of Youngstown is battling a recurrence of ovarian cancer and cannot get health insurance because it is a "pre-existing condition."
Bonnie Matuszwski of Niles discovered her cancer shortly after she was laid off. No insurance will cover her medication of $400 per month, and she has rejected transitional insurance because she cannot afford the $800 monthly premiums.
Neal Barkett of Howland, owner of a garden center for 20 years, said he sold his business because increasing health-care premiums for his employees cost more than payments on his new building.
The three told their stories to U.S. Rep. Tim Ryan of Niles, D-17th, during his health-reform roundtable Saturday at Vernon's Caf on Youngstown-Warren Road. They were among 14 people who appeared by invitation after posting stories about their health-care issues online.
"We have to have everybody covered and get everyone in the pool," the congressman said. Rising health-care costs "are unsustainable and will bankrupt this country."
The congressman, who supports President Barack Obama's health-care reform legislation, said he was there to listen.
Participants gave him an earful.
"Health care is very inefficient," said Tom Connelly, president of the nurses union at Trumbull Memorial Hospital. Connelly said the problems are most obvious in the emergency room, where the uninsured go as a last resort because they cannot afford preventive medical care.
"Last year, Forum Health provided $61 million in free care because people couldn't pay for it," Connelly said. "Forum is in bankruptcy, and this is going to keep happening."
Debbie Bindas, a union representative, cited the financial burdens placed on her father by medical-care costs.
"My father spent his life savings to cover his medical bills," Bindas said. "He had paid his bills all his life, but he still died in debt."
Ryan told the group that he favors a public-insurance plan as invaluable to keeping costs down because "it will keep the [private] insurance companies honest." He said that the plan would limit individual out-of-pocket medical expenses to $10,000 per year.
Ryan and several participants took exception to one comment that the Obama plan will mean health-care rationing.
"We are already being rationed by the insurance companies when they decide what is covered," Connelly said. "The government can't make it any worse."
The congressman took issue with a recent report from the Congressional Budget Office, which said the president's proposal will cost significantly more than Obama has indicated. He said that the CBO didn't consider preventive medicine in the Obama plan that is designed to reduce the need for last-resort emergency-room visits.
"Those can help cut costs on the front end," Ryan said.
The meeting was set up by Organizing for America, an affiliate of the Democratic National Committee; however, Ryan avoided turning the roundtable into a political forum. He cut off negative comments by several participants aimed at Republicans or the Blue Dogs, conservative Democrats who have stalled the bill in the House of Representatives.
"It will be hard to pass the bill without some [Blue Dog] support," Ryan said afterward. "We're going to need some of their votes."
He told the group that the public has to show its support if there is any hope of passage.
"We need to take on the special interests," Ryan said.