Car fuels unique legacy for an entire family
Kathy Miller's 1964 Mustang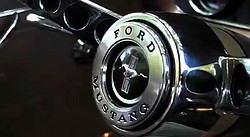 Video
Kathy Miller of Boardman is the original owner of a 1964 Ford Mustang.

Photo
Kathy Miller and her 1964 Mustang.
What started out as a graduation gift eventually became a vehicle for memories.
BY NATALIE LARICCIA
VINDICATOR CORRESPONDENT
Kathy Miller was just a fresh-faced Poland Seminary High School graduate when her parents surprised her with a very special gift. Little did she know it would become a legendary part of her life.
The gift — a brand-new 19641'Ñ2 Prairie Bronze Ford Mustang Coupe, which she received to honor her 1964 high school graduation — was not just any car. It was part of a group of the first Mustangs to roll off the assembly lines.
Now, nearly 45 years later, Kathy's son, Nathan, has restored the car to its original beauty, and the Mustang is an award-winning auto that has created a unique legacy for her Boardman family.
Kathy had an opportunity to celebrate her Mustang in April, when she and her husband, John, attended the Mustang 45th Anniversary Celebration event in Birmingham, Ala. Kathy was one of 10 original 19641'Ñ2 owners showcasing their cars at the event.
Newly introduced to the public in 1964, the sleek and shiny Mustang was referred to as a "19641'Ñ2" model because it was constructed during the initial production between March through July of 1964.
Although 1965 was technically the first model year of the popular automobile, Mustangs produced during this initial run were commonly coined "19641'Ñ2" Mustangs.
"Back in 1964, this was just about the coolest thing. The excitement over that car was just incredible," Kathy said.
Kathy's father, Ken Mitchell, purchased the car from Gough Ford, then located on Youngstown-Poland Road in Struthers. Tom Harshbarger was the salesman who sold him the car. Harshbarger, 83, is now retired and living in Struthers.
"It was one of the first 19641'Ñ2's sold in Mahoning County. We took it out to her father's garage and put a bow on it. It was to surprise her. I was a beautiful Mustang," Harshbarger said.
Many miles
Miller, now a Boardman Township Trustee and real estate broker and appraiser at Right Place Realty in Boardman, said the Mustang quickly became an integral part of her life. It transported her to college at Ohio State University, and it whisked her and John to the Cleveland Airport before they left for their honeymoon in Aruba in 1968.
When John was drafted to the U.S. Army, Kathy drove her Mustang to their new home at Fort McClellan Army base in Anniston, Ala.
Kathy made her first real estate sale in the car, and her Mustang chauffeured many of her clients to home viewings. She continued to drive the car on a regular basis until 1973, when it was stowed away in a storage garage. Although she made many memories in that Mustang, Kathy said she really didn't have a purpose for keeping the car.
"I've just always been a pack rat. I keep things. I don't think of throwing things out," she said.
The car sat idle in the garage for nearly 30 years, until Nathan — a car restoration enthusiast — expressed interest in restoring the car to its original condition. Nathan's goal was to complete the car by the Mustang 40th anniversary celebration in April 2004 in Nashville, Tenn.
John said he and Nathan could barely find the car among the other items that surrounded it in the storage garage. It took nearly two days to clean out the garage and unearth the Mustang, he said.
Labor of love
With John's help, Nathan worked tirelessly on the car for nearly two years. He scoured flea markets and attended numerous auto-part swap meets in search of perfect and original never-been-used Mustang parts.
The restoration process evolved into labor of love, and it spawned a new interest for the Millers. Nathan completed the car in 2004, just in time for John, Kathy, Nathan and Kathy's mother, Lois Mitchell, to attend the anniversary celebration. Kathy said it was particularly meaningful that her mother was able to be a part of festivities before she died in March 2006. Kathy's father died in the early 1980s.
Since 2004 Kathy's Mustang has earned her nearly 12 national awards, including a class champion award at the 19th annual Willistead Classic Car Show in August 2008 in Windsor, Canada. Participation in the event was by invitation only, so it was especially an honor, Kathy said.
The Mustang has also provided John and Kathy with a vehicle for meeting and sharing camaraderie with other car enthusiasts. A member of the Mahoning Valley Mustang Club, she says she loves hearing the stories and trading memories with other Mustang enthusiasts.
"I think it's just like a serendipity. Who knew that I'd have this car, keep the car and have a son who wanted to restore it. ... We're creating history with this in our family. ... I've met a lot of really great people, and the stories are really incredible," she said.
Kathy and John said they have no plans on switching gears. They plan to continue attending auto shows and showing off the car. Looking to the future, Kathy said she'd like to focus on creating a network for original Mustang owners, especially for owners of the first five years of production.