In Focus: Drinking Fountain Girl
Lady Drinking Fountain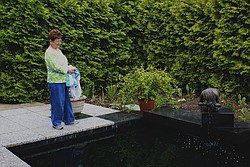 Gallery
IN FOCUS: Drinking Girl Fountain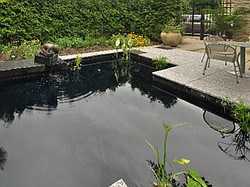 Video
A view of the drinking girl fountain at the D.D. and Velma Davis Education & Visitor Center on July 17, 2009.
Story and photos by Nathalie Taghaboni
Special to The Vindicator
There is an angel-child hidden in the Valley. Every day — and all day — she kneels above her pool and sips eternally.
The "Drinking Girl Fountain" was created by artist Joan Wobst and has been part of Mill Creek MetroParks' Fellows Riverside Gardens since 2001.
To find it within the beauty of the 12-acre facility off Mahoning Avenue in Youngstown, you must find the Kathryn D. Beeghly Memorial Garden.
This life-size sculpture of a 5-year-old came to the gardens from the Hammond Harkin Gallery near Columbus.
Surrounded by gloriously scented bushes with names such as "Sovereign," "Blue Kentucky Girl," "Flute Enchantee" and "Copper Luster," the pool is shaded by two luxurious Yoshino cherry trees.
The garden is just outside the D.D. and Velma Davis Education & Visitor Center.
Though many visit the gardens and even have tea at the caf , few seem to know about this angel-child nearby.
Elizabeth DeAngelo came out to sit on the patio and was delighted to come across the fountain.
"I've been coming here for years and never noticed this garden and sculpture before," she said.