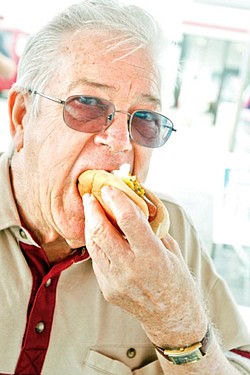 Photo
George Grim of Boardman takes a bite out his hotd og outside the Poland Save-A-Lot courtesy of Henry Nemenz, who wanted to thank customers for their overwhelming support.
Picketed grocer shows customers his gratitude
By SEAN BARRON
VINDICATOR CORRESPONDENT
POLAND — The intentions of pickets trying to dissuade people from shopping at area Nemenz grocery stores have had the opposite effect on Anthony Mamonis.
"I think he's being treated unfair, and people need to support him," said Mamonis, of Poland, referring to longtime local grocer Henry P. Nemenz.
For about the past week, many customers and others have been doing just that, in the form of numerous encouraging phone calls to Nemenz. Many calls were in response to a Sunday Vindicator article about the continued informational pickets at his Struthers IGA and Poland Save-A-Lot stores.
Most pickets are members of, or have been hired by, the United Food and Commercial Workers union and say their goal is to inform the public that his stores are nonunion.
To thank people for their support, Nemenz offered free hot dogs, water and soft drinks to the public Saturday at his Save-A-Lot store on U.S. Route 224 near Clingan Road.
Mamonis, who owns a flooring business, noted that the public needs to back Nemenz because the grocer continues to offer jobs in an economically depressed area. Besides, he added, anyone who opts to work for Nemenz knows his stores are nonunion and has the choice of whether to accept a position.
Mamonis' 11-year-old son, Anthony, said he came to the seven-hour event for more than a free meal.
"It's not fair they're picking on this store," he said. "I'd like to tell the picketers, 'Why are you doing this to one person, compared to all the people in the world? What did he do to you?'"
Also on hand was Mamonis' 5-year-old son, Dominic, who enjoyed a free hot dog and added that he was happy to accompany his father and older brother.
"Mr. Nemenz has been a very positive influence in this area since I can remember," said George Grim of Boardman, who also cited Nemenz's contributions to area Little League efforts and other civic activities.
Grim said he recalls when many unions made it easier for area steelworkers and countless other workers to make a good living. Now, however, some unions are more interested in spending much of their money on political action committees instead of for the good of those they are supposed to represent, he said.
Grim said he respects the rights of pickets to express their views, but that he also has the right to continue to shop at Nemenz-owned stores, which he does consistently.
Some unions "have pretty much outlived their usefulness," he added.
Saturday's cool and windy weather did little to keep many shoppers and others from the tent that had been set up in the parking lot, where they relaxed, socialized and had a hot dog and drink.
Working the grill was Mike Klim of Poland, who's known Nemenz for many years and belongs to the same Rotary Club. Assisting Klim were daughters Victoria, Melissa, Michelle and McKinsie.
"I'm very thankful and very blessed we have so much community support," Nemenz said.
The 52-year grocer said he could have retired or moved elsewhere, but that he wants to remain in business because a lot of workers depend on him. Nemenz also wants to be easily accessible to his 1,200 employees.
Nemenz said the UFCW has never given him a full explanation of why it has singled him out, other than to say that he's the largest independent grocer in the Valley. Aldi Foods, certain Giant Eagle sites and area Wal-Marts are other big nonunion stores, yet they aren't targeted, he noted.
Nemenz operates three IGA and eight Save-A-Lot stores; his son, Henry Jr., and son-in-law, John Kawecki, run nine Save-A-Lot locations.
The elder Nemenz spent about $1 million to renovate the Poland store, which had been a Phar-Mor and Sparkle Market before reopening as a Save-A-Lot about three years ago.