Churches fight to cast out slots plan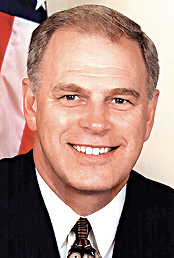 Photo
Ohio Governor Ted Strickland (D-Lisbon)
Allowing the terminals could send too many people down a slippery slope toward addiction, some say.
STAFF REPORT
Church groups vowed to fight Ohio Gov. Ted Strickland's plan to place video lottery terminals at the state's seven horse racetracks, saying they'll launch legal actions and grass-roots efforts to ensure "slot machines do not prey upon our fellow citizens."
Mahoning Valley churches are siding with the Ohio Council of Churches, saying that allowing the terminals could send too many people down a slippery slope toward addiction.
"Some people can do that sort of thing once a year, and they're fine with it. Then there are those where it opens the door to an actual addiction. It's like a monster," said Pastor Mary Hall, who runs an addiction support group at the Fifth Avenue Community Church in Youngstown.
"I have people who struggle with gambling, drugs, alcohol and that sort of thing," Hall said. "It will bring in a whole lot more. I guess my class will grow bigger."
At the Glenwood Primitive Methodist Church in Boardman, churchgoers have been politically active in the past by sending postcards and writing letters to Congress about abortion and the rights of parents, but it typically takes the approach of helping people after a decision has been made, said Pastor Nathan Doyle.
"We take the approach of 'it's happened... we need to educate people against it and about how it's an addicting, life-shattering behavior," he said.
Tom Smith, public policy director for the Ohio Council of Churches, and the Rev. John Edgar, chairman of the United Methodist Anti-Gambling Task Force, said Strickland's executive directive and language included by lawmakers in the recently passed biennial budget were unconstitutional. They also say slots wouldn't generate the nearly $1 billion officials are banking on to fill a budget gap.
The two groups plan to join David Zanotti and the American Policy Roundtable in earlier-announced intentions to file a lawsuit to stop the slots plan.
"It took Pennsylvania three years to satisfy court cases to allow racetrack slots," Smith said. "Can Ohio depend on this source to supply nearly a billion dollars to its $3.5 billion budget hole?"
The governor and supportive lawmakers say the plan, implementing slots under the Ohio Lottery via an executive directive and language added to the state budget, is constitutional.
Earlier this week, Strickland issued a directive to the head of the state lottery to start the process of placing video lottery terminals at the state's seven horse racing tracks.
Lottery officials still have to develop the rules for how the slots will be implemented. But Strickland's directive outlines details:
• Up to 2,500 terminals will be allowed at each race track.
• Locations will have to complete "extensive background check procedures," pay a $100,000 nonrefundable application fee and a $65 million licensing fee. The latter can be made in five equal installments, with the first payments due in mid-September.
• Licenses will be granted for a 10-year period. Licensees must commit to making at least $80 million in facility improvements within the first five years of operating slots, with a first-year investment of at least $20 million.
• Half of the net revenues generated by the video lottery terminals will go to the state. Of that, a portion will be used to cover operational costs, with the remainder designed for school funding.
Strickland has estimated the slots plan will generate about $933 million for the state over the biennium.
"The dedication of that revenue to education programs is critical to our continued efforts to strengthen Ohio's education system," according to the governor's directive. "Increased lottery revenues allow the state to dedicate scarce general revenue funds to critical programs benefiting the health, safety and welfare of Ohio's citizens, avoiding devastating cuts to those programs."
But Smith and Edgar countered Wednesday that the plan is unconstitutional in that the lottery language in the constitution does not allow slot machines, and half of the proceeds will be designated for racetrack use. All lottery profits are supposed to go to education, they said.
Pastor Bob Quaintance at the Good Hope Lutheran Church in Boardman said even though lottery dollars are supposed to be designated for education, they provide an avenue for government to remove other money from schools.
"If the government said there were no other resources to find money, I understand the plight... We've heard about cutbacks for people who are needy, for our library, so I understand the plight," he said. "I don't care too much what people blow their money on. When it comes to people who think this is their only hope ... then it becomes a devastating tax on people."