Ryan loses favor with pro-life group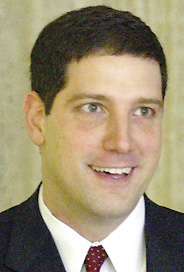 Photo
U.S. Rep. Tim Ryan of Niles
The congressman calls the organization a 'fringe group.'
Upset by what it sees as U.S. Rep. Tim Ryan's abandoning his pro-life position, Democrats For Life of America removed the congressman from its national advisory board.
"DFLA gave Congressman Ryan ample opportunities to prove he's committed to protecting life, but he has turned his back on the community at every turn," said Kristen Day, the Washington, D.C.-based pro-life organization's executive director.
Ryan of Niles, D-17th, insists he's still a strong pro-life advocate, but grew frustrated with Democrats For Life of America and other pro-life groups that refuse to accept contraceptives as an option to avoid unwanted pregnancies.
"We're working in Congress with groups that agree with preventative options while [the DFLA] is getting left behind," Ryan said. "I can't figure out for the life of me how to stop pregnancies without contraception. Don't be mad at me for wanting to solve the problem."
Democrats For Life of America started in 1999 with its primary mission being to elect pro-life Democrats, support pro-life elected officials, promote a pro-life plank in the Democratic Party platform and help pass legislation "that fosters respect for human life," according to www.democratsforlife.org — its Web site.
Ryan has introduced legislation in the U.S. House to reduce unintended pregnancies by making contraception easier to obtain, provide more aid to women who proceed with unintended pregnancies and expand adoption programs.
Ryan said he tried to convince officials with Democrats For Life of America, which he referred to Monday as a "fringe group," that the use of contraception is needed as part of any plan to reduce unintended pregnancies but that failed.
"They asked me to leave; I got booted," said Ryan, who was on the group's national advisory board for about four years.
Day and Mike Gonidakis, executive director of Ohio Right to Life, say Ryan's pro-life position softened after he was first elected in 2002.
Ryan received the Ohio Right to Life endorsement in his first run for Congress. That dropped to "preferred" in 2006 and the group didn't endorse in his race in 2008.
"He's been less and less with us over the years," Gonidakis said. "We scratch our heads at what has happened to Tim Ryan. Maybe going to D.C. changes people. We'd like to bring Tim Ryan back into the fold."
Day said pro-life Democrats "have lost a promising, rising star to the pro-choice movement." She speculated that Ryan changed his philosophy because he is "very politically ambitious and has his eyes set on a statewide office in the near future."
That's not true, Ryan said, pointing out that he's rejected two offers to run for the U.S. Senate and one for lieutenant governor. He added that he hasn't changed his pro-life position.
Gonidakis said Ryan votes more with the positions supported by his group than he doesn't, but the margin isn't enough.
Ryan's record on abortion issues is all over the map based on groups that track such votes.
He received a vote of zero percent in 2006 from two pro-choice groups, Planned Parenthood and NARAL Pro-Choice America [formerly known as the National Abortion and Reproductive Rights Action League]. In 2007, NARAL gave him a 100 percent voting record while Planned Parenthood gave him a 43 percent record last year. For the 2007-08 congressional session, the National Right to Life Committee gave him a zero rating. The same pro-choice group gave him a rating of 80 percent for the 2005-06 session.
Day and Gonidakis said Ryan, a member of the U.S. House Appropriations Committee, voted last week in favor of the Financial Services Appropriation bill that includes a provision allowing public funding for abortions.
In response, Ryan said that is not true and he would never support federal funding for abortions.
Among the amendments Republicans unsuccessfully tried to insert into the bill was one upholding a 20-year ban forbidding the District of Columbia to use local money to subsidize abortions.
"The bill doesn't provide public funding for abortions," Ryan said. "Congress shouldn't tell the District of Columbia that it can't use its own money to fund abortions. That's not the federal government's concern."
skolnick@vindy.com
More like this from vindy.com