Thrilled spectators urge full speed ahead for 2010 race
2009 Tour of the Valley in Downtown Youngstown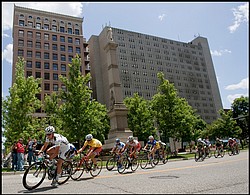 Gallery
7.12.2009 Tour of the Valley hosts riders and their bicycles racing through the streets of downtown Youngstown.
By BOB JACKSON
VINDICATOR CORRESPONDENT
Dan Quilan said he would love to bring the Tour of the Valley bicycle race back to the Mahoning Valley next year for a second spin.
"If we're welcomed, we'll definitely come back," said Quinlan, who runs Carbon Racing in Greenford with his wife, Erin.
Judging by the reaction from spectators who were in downtown Youngstown on Sunday morning to watch the final races of the weekend event, the welcome mat is already out.
This was the first year for the Tour of the Valley, a three-day bicycle race that included venues in Mahoning and Columbiana counties. It wrapped up Sunday with a race that covered a one-mile loop through city streets in downtown Youngstown.
Among those who came to watch was 79-year-old John Grantonic of Boardman, who, like many others there, was watching his first official cycling race.
"I've always wanted to see a bicycle race," said Grantonic, munching on a blueberrry muffin. "I missed the first two [days], so when I got up this morning I told my wife I was going down to watch the race. I wasn't going to miss this one."
Grantonic said he was a runner and a cyclist in his younger years and enjoys racing of all kinds.
"It's just always exciting," he said. "Any race is exciting to me. I enjoy them all."
Grantonic said he was disappointed when he showed up Sunday morning and there was hardly anyone else around to watch the race.
"It was like I was the only one here," he said, laughing. "I thought maybe I had the wrong day or the wrong place. I thought there would be more people here."
But as the morning went along, more and more people turned out to line the start/finish area and watch as the sleek racers pedaled through the race course.
Maureen A. Cronin, a city resident and a retired Mahoning County Common Pleas Court judge, was there with some friends to take in the action. She said the fairly small crowd should not have been a surprise since it was the area's first attempt at such an event.
"It seems like when you do something for the first time, it's going to be a little bit slow," Cronin said. "But if you do it again, people will come back, and it will get better. I love this and I think we need to support anything downtown, so I hope they come back."
Quinlan said that was the same type of feedback he got from racers and spectators alike all weekend.
"People said they really loved it," he said. "They said they want to come back next year and bring their kids."
Rick Alcorn, 42, of Youngstown, had a front-and-center seat for the race, along with his wife, Anita, and their 3-year-old daughter, Sharon.
"We ride bikes for pleasure but I've never seen a race before," said Alcorn, an information technology department employee at Youngstown City Hall.
Alcorn said it was interesting to watch the dynamics and strategies of the racers, and to see the way leaders changed as the laps rolled by.
"I hope it becomes an annual event," he said. "Anything that happens downtown, we try to come down for, especially if it's family oriented like this."
Joyce Donnell, who lives in an apartment downtown, said she didn't know about the race until she woke up Sunday and heard some commotion outside her building. When she realized what it was, she grabbed her walker, headed over to West Federal Street, grabbed a seat and watch the races.
Like many others, it was her first time.
"I've seen races like this on the television, but I'm watching this one live," the jovial 56-year-old said, laughing. "I'm enjoying it too, and if they do it again I'll be right here."
Mahoning County Commissioner John McNally also was among the early group of spectators Sunday.
"I was at home watching the Tour de France and decided to come down and watch this for a while," said McNally, a cycling fan. "I've always enjoyed watching cycling so this is exciting to me."
McNally said the racers seemed to enjoy the various venues and the accommodations provided for them over the weekend.
"So I would say the chances of them coming back next year seems to be pretty good."